'Beautiful, relaxed, welcoming' : Pompey ticks the boxes for tourists
Exuma Marathon, Featuring the Run for Pompey, attracted a record number of tourists seeking a gorgeous destination with a hint of health and wellness
We all travel for different reasons.
Some of us travel to see certain landmarks or cities, such as the Eiffel Tower in Paris, or the Taj Mahal in India. These days, plenty of tourists will travel just to discover great food. And then you have those simply chasing a beach and warm weather, particularly this time of year as winter sets in.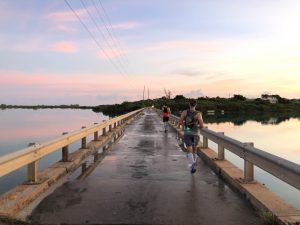 However, Tammy Sieminowski did not travel to Exuma this fall for any of those reasons.
Sieminowski, from Toronto, is a runner – an ultra marathon runner, to be precise. She had run a staggering 172 of them. With an average ultra measuring 50km, that's 8,600km of competitive running or 5,300 miles.
To put that in perspective, that is nearly the distance of running from Toronto to Exuma and back – twice.
Earlier this month, Sieminowski made the Exuma Marathon, Featuring the Run for Pompey, ultra marathon number 173.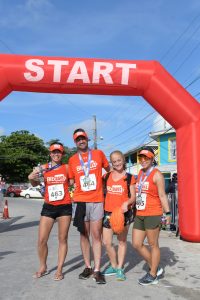 "I have been incredibly fortunate to be able to run many races in a beautiful place," Sieminowski says, who won the ultra marathon in the female category. "This race is high on my list as the most memorable events. The race was low key and super well organized, which is a rare combination. The volunteers were cheerful, encouraging, and helpful throughout the event. I'd like to thank the race organizers, sponsors, volunteers, and fellow runners for the wonderful race day."
Held on November 9th, the fifth annual Exuma Marathon attracted a record number of participants from abroad and from the local community. More than 230 people laced up their running shoes and crossed the finish line. Distances appealed to every age and ability, with a 2K, 5K, 10K, half marathon, full marathon, and ultra-marathon all available. Every participant receives the eagerly anticipated "Piggie Medal" as they crossed the finish line.
Of the 230 participants, more than 50 runners flew in for the race, from countries such as Canada, the United States, Ireland, Germany, Netherlands, and France. While most tourists might not run an ultra marathon, Sieminowski represents a growing segment of the traveling public interested in sports tourism.
This traveler wants to take in the beauty of the destination, while also doing something active, or focused on their health or wellness. With many beautiful resorts, smaller crowds and an unmatched natural environment, Exuma fits this need perfectly.
"Today we saw a bunch of sea turtles, which is one of my favorite things to do in the world," says Tim Murphy, an avid runner and the co-founder of BibRave, a running website, and community who participates and reviews races all around the world.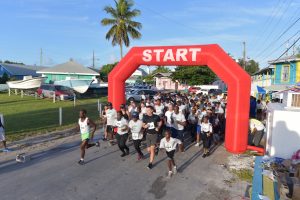 "We didn't have to book an appointment or pay a bunch of money. There is literally a beach where they hang out. That is a perfect example of what Exuma is like. You can explore on your own and have a very cool island experience."
Murphy, who founded BibRave with his wife, Jessica, led a group of runners this year at Exuma Marathon. You can listen to a podcast of their experience here.
Murphy's wife, Jessica, could not help but be impressed by Grand Isle Resort & Spa.
"We are staying in a three-bedroom villa, which is amazing because we have our own bedrooms and bathrooms, and a nice living area, two separate terraces, and a kitchen," Jessica explains.
"So it made it easier for us to stay here for a long time because we did have those amenities to make it feel more like home."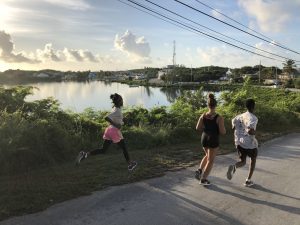 Grand Isle Resort, one of the official sponsors of the race, hosted dozens of runners over race weekend. Grand Isle offered a special package for runners, which included a pasta night the evening before, breakfast and a shuttle to take runners to the event in the morning.
The resort was joined by many other community partners and sponsors, led by BAF Financial & Insurance as the event's longtime title sponsor. GIV Bahamas, Aliv, Atabey, Glinton Sweeting O'Brien, Bahamas Ministry of Tourism, Peace & Plenty, Caribbean Bottling Company, Breezes, BahamasLocal.com, Silver Airways, and the Exuma Foundation all contributed to the cause.
As in past years, the Exuma Marathon is entirely nonprofit. In fact, the proceeds from each race go towards The Pompey Scholarship, which awards $5,000 to a promising student on the island to assist him or her with college or university.
Also, due to the passage of Hurricane Dorian this past September, the race organizers donated an additional $5,000 to assist families on Exuma that were displaced by the storm.
Exuma was untouched by Hurricane Dorian, with the islands to the north – Abaco and Grand Bahama – getting hit.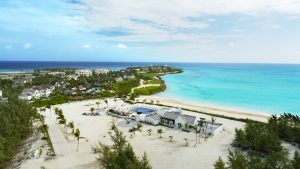 According to runners from abroad, it is the authenticity of the Exuma Marathon, and the community feels, that sets it apart from other sports tourism experiences. Running alongside them were hundreds of Bahamians from Exuma and Nassau, many of them students. Run for Pompey is an ode to Pompey, a slave on Exuma who lived in the 1830s. Pompey is famous in The Bahamas for leading a rebellion on the island when 77 men, women and children were scheduled to be separated and transferred off the island. Pompey's rebellion stopped the order.
At the end of the race, participants could enjoy a cool drink from the bar, listen to the DJ spinning tunes, jump in the turquoise ocean or indulge in a true Bahamian breakfast of stew conch or stew fish.
"Beautiful, relaxed, welcoming," Sieminowski describes it.
"The clear turquoise water is incredible, and I was pleasantly surprised by the amount of natural vegetation around the island. Locals were friendly and helpful, extending warm hospitality. I had not visited before, but Run for Pompey fit the bill perfectly.