Exuma Marathon to support students displaced by Dorian
After a sell-out last year, the fifth annual race on Nov 9 th is expected to draw a record number of participants from the Bahamas and around the world
At L.N. Coakley High School, it has not been a typical start to the year.
There is all the usual buzz, excitement and nervousness in the halls, as students return to classes. But this year, there are at least 40 new faces at L.N. Coakley – children that have been forced to abandon their homes in the wake of Hurricane Dorian.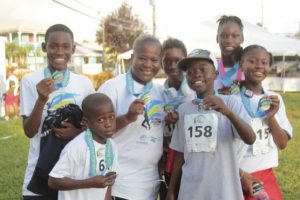 "It has been roller coaster ride this summer with the opening of school," said Don Barr, the principal of L.N. Coakley, the largest high school on Great Exuma.
"So far we have 40 students with us from Abaco and Grand Bahama, and we just registered a few more recently. And they are doing amazingly well. Kids are incredibly resilient, even though many of them have lost everything. And I mean everything. That's why I wanted them in class as soon as possible because it takes their minds off the tragedy."
And what a tragedy it has been – dozens reported dead, billions in damage and thousands of lives impacted forever since Hurricane Dorian first made landfall in Abaco on September 1 and then carried on to Grand Bahama. To assist families on Exuma, the Exuma Marathon has announced that it will make a minimum donation of US$5,000 to put towards school supplies, school fees and any other incidentals for students in need.
This pledge is in addition to the usual Pompey Scholarship, given annually to a graduating student in Exuma to help with tuition at the University of The Bahamas.
Participants in the Exuma Marathon will also be encouraged to bring school supplies with them for donation, such as calculators, geometry sets and other items that tend to be in short supply.
"Our hearts go out to everyone impacted by this horrific tragedy," said Peter Nicholson, President of GIV Bahamas Inc, the largest owner at Grand Isle Resort and a key sponsor of the race.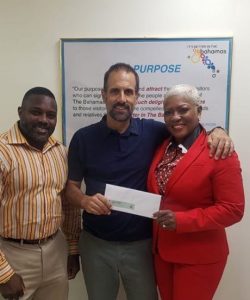 "The scope of the need can be very daunting, but for our part, we would like to step up and make this year's Exuma Marathon about these new students joining our island community. The more people that take part in the race, the more money we will raise. This is only the beginning of an ongoing commitment to helping displaced Bahamians in need."
Exuma Marathon, featuring the Run for Pompey, will take place on November 9th and leave from Regatta Park. The race, now entering its 5th year, has grown to become a major event for the island by not only generating much-needed tourism dollars, but also by bringing together the community. The event sold out last year, attracting more than 200 runners. This year, it is expected to draw more than 250 runners from across The Bahamas and around the world. Grand Isle Resort, one of the race sponsors, will host a pasta night on November 8th, the night before the race, at its brand new beach club, 23 North.
The race includes a variety of distances for every ability, ranging from a 2K "George Town Dash", all the way to a grueling 50K Ultra Marathon, otherwise known as The Run for Pompey. The Ultra Marathon is named in honour of Pompey, a slave from Exuma who famously led a rebellion on the island in the first half of the nineteenth century. While his rebellion was eventually stopped by the British, Pompey did prevent the transfer of 77 men, women and children to another island plantation, which would have separated families.
Today, Exuma Marathon honours Pompey's memory. The event is entirely nonprofit, and students can register for free. All races are professionally timed and each participant receives a commemorative "Swimming Pig Medal" , official Exuma Marathon t-shirt and a swag bag of goodies donated by sponsors.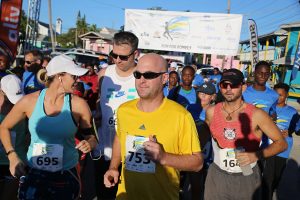 As an added twist, earlier this week, the Sports Tourism Department at the Bahamas Ministry of Tourism provided Exuma Marathon with B$3,000 in prize money, with $500 up for grabs in the male and female categories of the Ultra Marathon, the Marathon, and the Half Marathon.
"This is our first year offering prize money and I think it is just another reason to come out for a meaningful cause," said Kevin Taylor, Race Director at Exuma Marathon.
"I have always felt that this event ticks all the boxes. It brings in tourism, unites our communities and it is grounded in authentically Bahamian history and culture. We thank the Sports Tourism Department for their support and the support of all our sponsors. This event just wouldn't happen without them."
Exuma Marathon is supported by its longtime Title Sponsor, BAF Financial & Insurance (Bahamas) Limited.
Other key sponsors include Aliv, Caribbean Bottling Company, Atabey, Sands Beer, GIV Bahamas Inc., The Swimming Pig, Grand Isle Resort, Peace & Plenty, Cash N' Go, Glinton Sweeting O'Brien, BahamasLocal.com, Peace & Plenty, Bahamas Ministry of Tourism and Diane Phillips & Associates.