EFC releases first pamphlet on philanthropic activities, with focus on community outreach, education and health
While some foundations only offer money to worthy causes, the Exuma Foundation of Canada (EFC) is different.
Since it was founded by GIV Bahamas Inc more than two years ago, EFC has sought to create community events and grass root initiative to not only provide financial assistance where it's needed, but also inspire unity and positive change on the island itself.
This goal was a central theme during EFC's recent Annual General Meeting (AGM), when board members invited the public and offered a report on its ongoing projects. The board also unveiled its first pamphlet, which reviews of all of philanthropic activities and goals to date (click the link on the newsletter home page to view).
Run for Pompey, now entering its third year, commemorates the life of a slave who led a rebellion on the island of Exuma back in 1830. The run – offering professionally timed races for all skill levels – brings together youth on the island and delivers the annual Pompey Scholarship to one student each year so him or her can attend college or university. Run for Pompey, running from October 6 to October 8, is fortunate to be supported by many wonderful sponsors.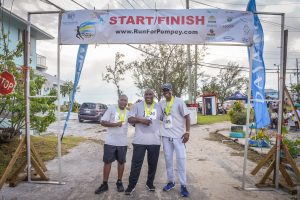 Ride for Exuma, also going into its third year on February 10, invites philanthropists with a keen interest in cycling to Exuma's world famous waters and beaches. Raising significant funds for the community each year, the event also brings the island's youth together with the philanthropists from abroad. In fact, in addition to many other charitable gifts, Ride for Exuma is embarking on a cycling club in collaboration with L N Coakley High School.
Organizers of the event plan will add to the club's stockpile of bikes, as EFC seeks to engage youth, promote education and encourage a healthy lifestyle.
Following along these themes, EFC is engaged in a few other medium-to-long-term projects for the community.
Earlier this year, the foundation made a donation to the main Exuma Foundation as part of a basketball court and park restoration in downtown George Town (the main settlement of Exuma). While more funds will be needed for this project, the vision is to make this public meeting area a jewel once again of this community and revitalize a once flourishing basketball league for the island's youth.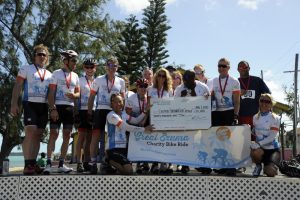 A second major project for the long term is the construction of the Marge Carlson Children Shelter. This initiative, undertaken primarily by the main Exuma Foundation, is being supported wholeheartedly by EFC. The foundation has already a made sizeable donation to the project and will continue to help finance it as the building begins to rise from the ground.
The Marge Carlson Children's Shelter recently hosted a groundbreaking on the Exuma Foundation's 10-acre campus. The new building will be owned by the foundation and administered by the Department of Social Services.
The Exuma Foundation, which has operated a school for the mentally challenged for years, will provide the first centre for at-risk youth on the island, with enough space for four boys, four girls, a common living space, an apartment for a qualified "house parent" and a permaculture garden.
EFC is always seeking volunteers, donations, ideas and enthusiasm from like-minded Canadians. For more information on these programs, or to get involved, you can email Jeff Todd at Jeffrey.todd@givexuma.com