'Stunned' Rolle receives Pompey Scholarship
Third time's a charm as Run for Pompey – October 6 to October 8 –  welcomes a new sponsor and partnership with National Family Island Regatta
A senior at L N Coakley High School in Exuma became the second recipient of The Pompey Scholarship this week, with ambitious plans to study in Canada this fall and return to Exuma as a primary school educator.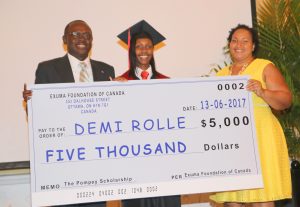 Demi Rolle, whose favourite subjects include English and history, will join her friend Troyann Forbes, the first winner of this scholarship, at Acadia University on the Canadian east coast.
"I was really just stunned. Me? Really? When they called my name, I couldn't believe it. It was really exciting," Rolle said, who picked up her over-sized cheque at L N Coakley's graduation ceremony, held at Sandals Emerald Bay last Tuesday.
"I plan to come back home [to Exuma],  but I want to get that experience abroad as well and then perhaps open up my own pre-school when I return. I heard it is very nice in Canada and I have friends over there."
Rolle's big win is the end result of last year's Run for Pompey, the second installment in an annual event that is rapidly becoming a fixture on the sports tourism calendar.
As the old saying goes, the third time's a charm. The next Run for Pompey, taking place over National Heroes Day Weekend from October 6 to October 8 in Exuma, promises to be largest yet, featuring a new collaboration with the National Family Island Regatta. On October 7, or race day, runners from The Bahamas and abroad will be treated to a festival atmosphere in the park with a full bar, food stalls, Bahamians entertainment and a "mini-regatta" in Elizabeth Harbour.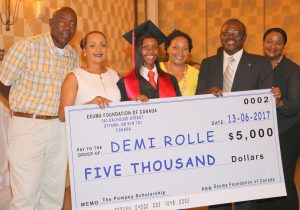 Run for Pompey is also thrilled to announce a new sponsor of the event. Aliv, the emerging telecommunications company, will become a valued supporter.
The event is led by title sponsor BAF Financial & Insurance (Bahamas) Limited and MRI Nassau.
GIV Bahamas Inc., the Bahamas Ministry of Tourism, Grand Isle Resort, Sands Beer, Caribbean and Bottling Company, Ty's Sunset Bar & Grill, Catch A Fire, Chat N' Chill, BahamasLocal.com, SuperClubs Breezes and Diane Phillips & Associates round out Run for Pompey's strong network of sponsors.
Legendary "Golden Girl" Pauline Davis-Thompson will serve as Run for Pompey's patron for the third consecutive time, draping medals around each and every neck at the finish line. She also provides a special keynote address at Grand Isle's pasta night for runners the night before the race.
"The level of support for this event has been outstanding," said Jeff Todd, Director of Communications at GIV Bahamas Inc., who founded the race with Kevin Taylor, the owner of DreamKatcher Media. "With the race as its centerpiece, Pompey is growing into a weekend-long celebration of Bahamian history and culture. The fact it takes place on National Heroes Day Weekend only makes Run for Pompey more poignant. Registration is already very strong and we expect a huge turnout in our third year."
In 1830, Pompey, a 32-year-old slave, defied a transfer order on Exuma that would have separated 77 men, women and children from their families. While his rebellion was eventually squashed, it is widely seen as a key moment in the Bahamian fight for freedom.
To commemorate his memory, Run for Pompey features races for all ages, skill levels and abilities, including the 2K "George Town Dash", 5K, 10K, half marathon, full marathon and the country's first and only 50K ultra marathon. All races are professionally timed. Past events have attracted hundreds of runners from various countries, including Canada, the United States, the UK and The Bahamas.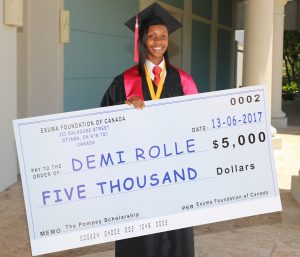 Don Barr, the principal of L N Coakley High School, believes the history of Pompey is an essential ingredient in the event and the educational process.
"From the historical aspect of it, students know of Pompey, and the fact there is a whole committee and event surrounding it all, that in itself deserves praise," he explained. "These scholarships means a lot to us. I believe it will inspire more students to do the same thing and follow in Demi's footsteps."
With two Pompey Scholarship winners now at Acadia University, the approach appears to be working, as students from Exuma continue to write their own page in the Pompey history books.
The donation will be paid directly to Acadia University on Rolle's behalf by the Exuma Foundation of Canada.
To learn more about the Run for Pompey and sign up for the 2017 event, you can visit its website at http://runforpompey.com/.