'Hidden Treasure' revealed on 'Native Traveler'
Canada Talks on Sirius FM broadcasts hour-long show on the rustic magic of the Exumas and the polished luxury of Grand Isle
There is a certain authenticity about listening to a story on the radio.
In an age where we are constantly bombarded with images, video and flashing lights, the medium of radio, with its subtle sounds, still has the ability to create feelings and emotions in the listener that are more profound.
We craft the images in our mind.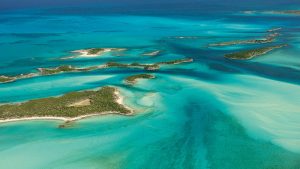 Native Traveler, a new show on Sirius Radio – Canada Talks, channel 167 – took full advantage of this form of storytelling when producer Cara Ferguson and Chef Philip Pearce travelled to Exuma and Grand Isle Resort.
The show, which aired earlier this month, not only provided vivid sounds and descriptions of the island, but also offered candid interviews with locals on the history of Exuma and what makes this place tick. The nearly hour-long segment was appropriately entitled "Hidden Treasure".
The show also included in-studio interviews with Cameron Hepple, District & Business Development Manager for Canada at The Bahamas Ministry of Tourism, who spoke about the country's overall tourism outreach in the Great White North. Hepple and Native Traveler first met back in January when Grand Isle Resort collaborated with the Ministry of Tourism at The Outdoor Adventure Show, held at the International Centre in Mississauga, just a short drive from Toronto.
Ferguson stopped by the booth to meet Hepple and learn a bit more about their upcoming trip to Exuma. Fast forward a couple months, and Ferguson and Pearce were on a plane to paradise.
Emerging from the clouds, Pearce describes the swirling blues and whites of the Exuma archipelago as a "painter's palate".
"I know I'm not alone in the excitement I'm feeling," he said on the show. "My clothes feel too heavy. My head, lighter. My life from four hours ago in cold, wet Toronto begins to feel like an archaic mainland memory, sluggish and grey. Our wide eyes take it in from above and I can't wait to walk out onto the tarmac, and feel Exuma all around me."
For Pearce, it wasn't the first time he had visited Exuma, or even the second, but he still felt that same rush.
Years ago, Pearce had been introduced to the area by Peter Nicholson, the President of GIV Bahamas, who enlisted his culinary expertise for special events. On the show, Pearce reminisces about the "pioneering spirit on Exuma", a certain authenticity and feeling that the rat race of the 21st century has been left far behind.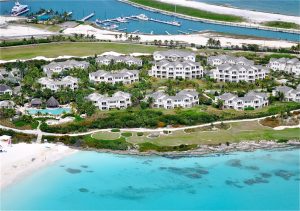 Pearce's recent return to Exuma as a radio host, once again a guest of GIV Bahamas Inc. at Grand Isle Resort, began with checking into a luxurious villa, followed by a Goombay Smash at the bar.  He walked down to the mile-long Emerald Bay Beach, just steps from the bar, and took a deep breath, "one I feel like I have been holding since the last time I was here".
This trip was Ferguson's first exposure to the island, but she immediately understood what made the island so special.
The duo left their luxurious perch at Grand Isle and hit the road, in search of experiences. They didn't have to look for long.
"Very welcoming," Ferguson said.  "I have never felt that in all the countries I travelled to … such a genuine … they just accept you for who you are, and include you."
From speaking with cab drivers, to local fishermen, to conch salad chefs, Ferguson and Pearce paint a beautiful portrait of Exuma that appeals to the senses. They describe the giant string rays that curl around your ankles, like "water cats". During a trip to the Fish Fry, they encounter a mountain of conch shells on the beach, and fall into conversation with a local fishermen returning with the day's catch. The Exumians show them the pen where they keep the conch, and how they prepare for the afternoon rush of tourists and locals seeking their fresh salads.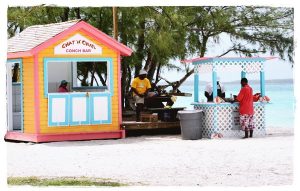 "And sure enough, at 4pm, 20 people showed up for conch salad," Ferguson remembered. "When it's gone, it's gone." Watch video here.
Similarly, both Ferguson and Pearce wonder how long a place like Exuma, in all its purity, can last. A sense of discovery followed them everywhere, Pearce explained. It has the feel of cottage country, tropical style, where the trip is defined by the experiences you have and the people you meet.
"It's like the place has a secret, a story to tell, a buried treasure. And it's up to you to find it," he added.
Indeed, for many owners at Grand Isle Resort, it is exactly this originality and richness of experience that inspires them to make the island their second or third home. While Grand Isle provides all the amenities and luxury one could need, it is also a gateway to genuine adventure.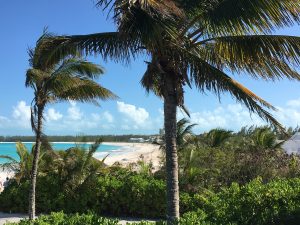 Be sure to read Phil Pearce's blog post on his experience here.
For more information on the show Native Traveler and Grand Isle's ownership opportunities, click here.