Owner's Hour offers new spin on Grand Isle living
Weekly cocktail reception, on Fridays from 6pm to 7pm, gives guests a relaxed, informal environment to ask questions about life in Exuma
A new tradition has begun at Grand Isle Resort – Owner's Hour.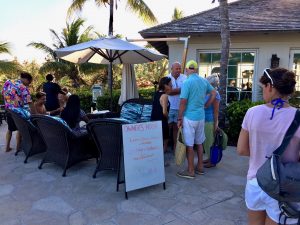 Every Friday, from 6pm to 7pm, guests of Grand Isle are invited to an optional cocktail reception beside the resort's infinity pool. Organized by the Villa Sales Office, the new Owner's Hour is intended to provide an informal opportunity to learn about what it's like living in one of the most beautiful places in the world.
"Buying a villa here is about a lot more than dollars and cents," said Julie O'Connor, who owns two villas at Grand Isle Resort.
"Those that invest here and spend time here are equally invested in the island lifestyle. And you really gain an appreciation for what that is like by chatting with someone who lives it, ideally over a colorful drink overlooking our incredible beach."
While Grand Isle Resort offers a simple, luxurious, turn-key solution for high-end tropical living, many of the community's owners become intimately familiar with the entire island chain.
Owner's Hour allows guests to satiate their curiosity on what lies beyond Grand Isle's gates.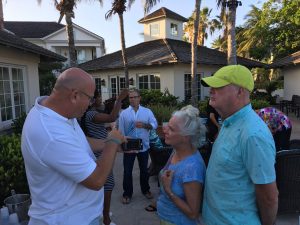 "We all have our favorite dining spots. Our favorite beaches. Who is the best boat captain or fisherman on the island?" O'Connor added. "What's great about Exuma, however, is because the locals are so warm and friendly, everyone will discover their own hidden gems. Our owners at Grand Isle also make Exuma their own."
Owner's Hour features complimentary rum punch, fruit platters and even a teaser massage from one of the talented beauty technicians at the SeaStar Spa at Grand Isle Resort.
Guests of the hotel will also have the chance to learn about all the major developments happening in and around Grand Isle.
Exuma is undergoing a period of unprecedented growth. With its 365 islands, close proximity to the United States and Canada, and arguably the best water & beaches in the world, this archipelago is attracting record numbers of tourists and investors.
One of the more hotly anticipated developments in Exuma includes the imminent groundbreaking of Atabey, the 5-star project on nearby Williams Cay and Children's Bay Cay.
Meanwhile, the swimming pigs of Exuma continue to generate huge crowds and garner international attention.  "As someone who has been investing in Exuma for more than 13 years, I have never been more encouraged by where we are headed in Exuma," said Peter Nicholson, the President of GIV Bahamas Inc. "Grand Isle is the highest-end product on Great Exuma, so I see great things in store for the property as the island continues to grow."