Grand Isle hosts record-setting fly out
GIV Bahamas and Heaven's Landing entertain Cirrus Owners & Pilots Association and deliver full Exuma experience
Exuma was packed with pilots this month as a record-setting number of Cirrus Aircraft owners flew over 365 jaw-dropping islands and had a soft landing at Grand Isle Resort for their annual Bahamian adventure.
From April 20 to April 23, more than 60 members of the Cirrus Owners & Pilots Association (COPA) took part in a custom GIV Bahamas Inc program.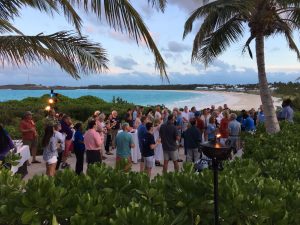 The experience started off with a cocktail reception overlooking Emerald Bay, affectionately known as Grand Isle's "billion-dollar beach". Sponsored by the Bahamas Ministry of Tourism, COPA members enjoyed complimentary cocktails and appetizers at this torch-lit reception.
The next day, the pilots embarked on an adventurous excursion up the Exuma Cays, stopping off at the giant iguanas, the Dragon's Breath Blowholes, Question Mark Sandbar, Thunderball  Grotto, and of course, the world famous swimming pigs.
The group stopped for lunch at Ty's Sunset Bar & Grill on Little Farmer's Cay.
A private beach, volleyball court, high-speed Internet and cable television provided a mix of modernity but with a private island feel. The island's 2,700-foot airstrip also allowed Cirrus pilots not keen on the high seas to meet the group for a bite to eat.
On Saturday, after enjoying island life at their own pace, COPA held its official banquet dinner at Catch A Fire. Prime rib, fresh grouper, conch fritters and other favourites were on the menu as guests were treated to a Bahamian band, dancing and shark feeding. As part of the itinerary, pilots are encouraged to do as much or as little as they wish, while enjoying Grand Isle's luxurious villas and extensive amenities.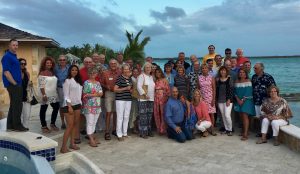 "Grand Isle and the Exuma Cays allows us to provide the perfect experience for pilots," said Jeff Todd, Director of Communications for GIV Bahamas. "It is all about giving our clients maximum flexibility and choice, while also providing a "'one-stop-shop' for all all the pilots' needs. COPA is an exceptional organization of friendly and committed owners and we were happy to show them a great time here in the Exumas."
The COPA Bahamas Adventure is just one of many fly outs recently hosted by GIV Bahamas Inc. at Grand Isle Resort.
GIV Bahamas Inc. has partnered with Heaven's Landing, a premier fly-in community in north-east Georgia, to deliver unparalleled service, as both entities seek to revolutionize the lifestyle offerings in private aviation.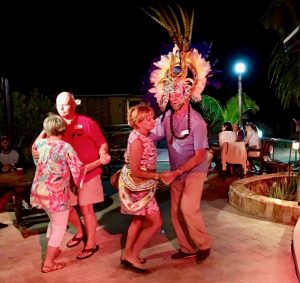 For more information on fly outs to the Exumas, contact Jeff Todd at jeffrey.todd@givexuma.com