Exuma plays starring role at aviation show
GIV Bahamas Inc and Heaven's Landing form triple booth and turn some heads at Sun N Fun International Fly In and Expo in Florida
The Bahamas Ministry of Tourism is glowing following an impressive showing at this year's  Sun N Fun International Fly In and Expo, with GIV Bahamas Inc and the island of Exuma playing a starring role.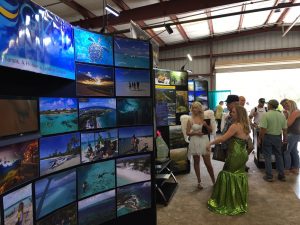 For the second straight year, GIV Bahamas and its hospitality offerings, including Grand Isle Resort, were on prominent display at the second largest aviation show in the world. More than 200,000 people filtered through the grounds in Lakeland, Florida, which features hundreds of booths, incredible airshows and countless attractions and activities for plane aficionados.
This year, however, was special, with GIV Bahamas combined forces with Heaven's Landing, forming an imposing triple booth with both a mermaid (representing the blue ocean of Exuma, Bahamas) and angel (from the green mountains of Georgia, USA). GIV Bahamas and Heaven's Landing invited the participants to consider an entirely new lifestyle concept that's unique to the aviation industry.
Namely, connected properties, in radically different environments, which focus on providing the best service, amenities and experience possible to its clients.
The approach thus far has proven fruitful.
Jeff Todd, Director of Communications for the GIV Bahamas Inc, said he "has seen a tremendous growth in fly-ins to Exuma as a result of our first participation at Sun n Fun in 2016.  We will have some 64 pilots from the fly ins in to Grand Isle later this year and we have established some new partnerships (with Heaven's Landing) and are exploring the possibilities of conducting our own air show in Exuma," he said. GIV Bahamas Inc. is the largest owner of villas at Grand Isle.
Todd was interviewed by Tourism Today, the local television broadcast in The Bahamas, and featured in an official press release.
GIV Bahamas' focus on private aviation has not gone unnoticed by others in the hospitality industry. \
During the show earlier this month, several other hotels in The Bahamas threw their hats in the ring as possible destinations for pilots. The turnout is encouraging for tourism executives.
"Based on the high level of exposure the Islands of The Bahamas received through its prominent brand displays and strong partnership with Sun n Fun, along with numerous live radio and television broadcasts, seminars, one on one meetings with pilots and other contracted business opportunities our hoteliers procured, we could not have been more pleased," said Omar Isaacs, General Manager of Vertical Markets at the Bahamas Ministry of Tourism.
"The fact that our hoteliers, new and old are already planning to attend this expo in 2018, speaks volume of their excitement, confidence and knowledge of the importance of this Expo to their business development," he said.
Forever innovating, GIV Bahamas will be unveiling new concepts for pilots through its properties in Exuma, as the company continues to push the envelope and provide new lifestyle options for pilots.
GIV Bahamas is a unique hospitality company comprised of villas at Grand Isle Resort, restaurants, homes for rent and significant land interests. Heaven's Landing, located just a stone's throw from Clayton, Georgia, and Lake Burton, is a premier fly-in community with a 5,200-foot airstrip.