Peace & Plenty buyout latest in Exuma Buzz
GIV Bahamas Inc. unveils first "Exuma Buzz List" ahead of Fyre Festival, Bertarellis and other construction projects
Exuma is buzzing with new construction projects, events and most recently the acquisition of the historic Club Peace & Plenty resort, with the new owners announcing more than $700,000 in upgrades to the property.
The excitement is palatable around Grand Isle Resort's infinity pool. As the highest-end product on Great Exuma, Grand Isle is busting at the seams and continues to be the primary hive for all the activity happening along the archipelago.
The audible buzz is aided considerably by the imminent start of the Fyre Festival from April 28-30 and May 5-7.
The massive event, featuring A-List musical talent and celebrities, is expected to bring unprecedented attention to Exuma at an already busy time.
The announcement that Club Peace & Plenty is changing hands is only one of many ongoing projects in the area.
"Now we have Government approvals, we're moving to close the deal right now, within the next 30-60 days," Burton Rodgers told a local daily in The Bahamas this month. "The group includes myself and a group of investors in Florida, who own some hotels in Key West and the Great Miami area."
Rodgers called Club Peace & Plenty one of the most historically significant hotels in the country. Dating back to the late 1950s, the resort was a pioneer of the Exuma tourism industry and hosted a long list of well-known celebrities over the years.
While the news of the 38-room Club Peace & Plenty has been met with a great deal of optimism, there is much more buzz elsewhere on the island. The number of projects have become so considerable that GIV Bahamas has begun compiling an "Exuma Buzz List" for prospective investors.
Back at Emerald Bay, homeowners and renters at Grand Isle Resort are eagerly awa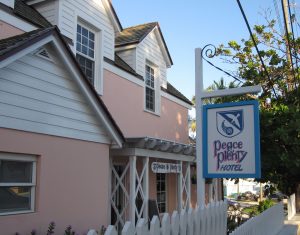 iting the opening of the "White House". This cathedral-like structure on Emerald Bay Beach will soon become a highly anticipated special events venue, beach bar and dining venue. The new facility is expected to open in 2018.
Across the street, at Roker's Point, a development located beside Emerald Bay Marina is expecting an uptick in activity due to the Fyre Festival selecting this spot as the main concert area.
Not far from Emerald Bay, just off the coast of Berre Terre, Dona Bertarelli is poised to break ground on the much anticipated $200 million, plus Children's Bay Cay and Williams Cay development. The high-end, eco-friendly resort recently held a town hall meeting in downtown George Town to reveal its future plans.
It is expected the project will host an official ground breaking in the next few months.
An airport redevelopment, the new hospital and new construction projects on Stocking Island all add to the buzz around Exuma these days.
"It has been amazing to see Exuma grow these past few years," said Peter Nicholson, President of GIV Bahamas Inc and the largest owner of villas at Grand Isle Resort. "The Swimming Pigs have been wonderful ambassadors for us and helped get Exuma on the map and now it's great to see the island taking the next step."