Bahamas Tourism Industry Partners Happy About New Business Opportunities at 2017 Sun n Fun
By: D. Earnestine Moxyz
Bahamas Tourism Industry Partners Happy About New Business Opportunities at 2017 Sun n Fun International Fly-In and Expo in Lakeland, Florida. Event Attended by more than 200,000 Persons
The Bahamas Ministry of Tourism (BMOT) along with its hotel industry partners who attended the 2017 Sun n Fun International Fly In and Expo in Lakeland, Florida, April 4-9, 2017 are happy with the group leads and new business opportunities they obtained during the 6-days aviation Expo.
"Based on the high level of exposure the Islands of The Bahamas received through its prominent brand displays and strong partnership with Sun n Fun, along with numerous live radio and television broadcasts, seminars, one-on-one meetings with pilots and other contracted business opportunities our hoteliers procured, we could not have been more pleased," said Omar Isaacs, General Manager of Vertical Markets at the BMOT.
"The fact that our hoteliers, new and old are already planning to attend this expo in 2018, speaks volume of their excitement, confidence and knowledge of the importance of this Expo to their business development," he said.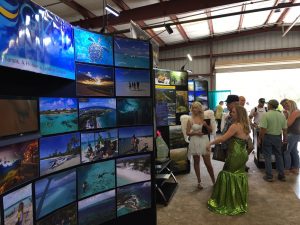 Jeff Todd, Director of Communications for GIV Bahamas, the largest owner of villas at Grand Isle Resort in Exuma, said he "has seen a tremendous growth in fly-ins to Exuma as a result of our first participation at Sun n Fun in 2016. We have some 64 COPA pilots flying into Grand Isle later this year and we have established some new partnerships (with Heaven's Landing) and exploring the possibilities of conducting our own air show in Exuma," he said.
First time participant at Sun 'n Fun, Richard Keyworth, Director of Sales at Ocean Heights, a new hotel now under construction in Long Island, said the "caliber of clientele at the Expo is exactly what our upscale property is targeting. This show has exceeded our expectations in every way and we are so very pleased with the turnout and level of interest shown in Long Island and our property," he said.
Some of The Bahamas' other leading hoteliers that participated in the weeklong event included Small Hope Bay Lodge (Andros), Valentine's Inn (Eleuthera), Fernandez Bay Village (Cat Island), Resorts World Bimini, and Old Bahama Bay, Whyndham Viva Fortuna and Flamingo Bay Hotel in Freeport. Representatives from the Grand Bahama Island Promotion Board as well as three of The Bahamas' preferred fixed base operators, Banyan, Marathon General and Atlantic Aviation also attended the event.
Now in its 43rd year, according to Sun n Fun's chairman, Bob Knight, "this year's event shattered all of our previous records."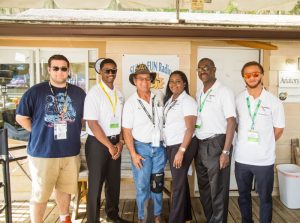 The largest convention in Florida and the second largest aviation show in the world, it is estimated that more than 200,000 persons, from over 60 nations, inclusive of 500 manufacturers and exhibitors, pilots, campers and aviation enthusiasts attended the six days event, which showcased daily aerobatic air shows. More than 10,000 aircraft movements were recorded, during the 6 days event, which featured aircrafts ranging from Warbirds and vintage bomber jets to light sport home built experimental aircrafts.
Some 225 private pilots, interested in flying into The Bahamas participated in special seminars on the policies, procedures and ease of flying into The Bahamas, which were conducted by the Bahamas Flying Ambassadors; seasoned pilots with extensive experience in flying to and around the Islands of The Bahamas.
The BMOT also hosted members of the international press, aviation performers, industry partners and executives of Sun n Fun to a dinner reception.
"Our relationship with the BMOT continues to be strengthened, year after year and we are excited about our projects with the Bahamas and to preserving the aviation industry" said Mr. Knight.
Through its partnership with Sun n Fun, pilots attending the Sun n Fun show, conduct fly outs to various islands in The Bahamas following the Lakeland Expo. In addition to this, in April 2016, the MOT along with Sun n Fun launched the first Grand Bahama Air Show. This year's aerobatic air show is scheduled to take place, May 19-20, 2017 over the pristine waters at Taino Beach.
READ FULL ARTICLE HERE