Farmer's Cay Regatta draws near record crowds
Annual event attracts thousands of people over the first weekend of February in traditional Bahamian celebration
More than a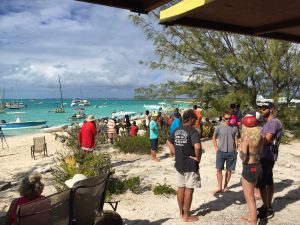 dozen planes, hundreds of boats and thousands of people descended on Little Farmer's Cay last month for the is- land's biggest party of the year, attracting one of the biggest turn outs the event has ever seen.
The Farmer's Cay Regatta, a staple on the Exuma tourism calendar for decades, was originally intended as a "homecoming" for the residents of the island and their extended families. Today, it is spirited festival for all, with food, music, fun, and most importantly, sail- ing races across Exuma's famously blue, clear water.
Tyrone Munroe, a descendant of Little Farmer's Cay, hosted the biggest gathering of people at his restau- rant, Ty's Sunset Bar & Grill. While Munroe said it wasn't the biggest crowd he has ever seen, it certainly ranks in his "top 3".
"I haven't seen such a huge crowd in quite a few years," Munroe said, who is also a Director of GIV Bahamas Inc. "This event is really important for the island as a whole. It is a lot of work and it can't be done without the work and support of a great number of people, so I want to thank everyone involved."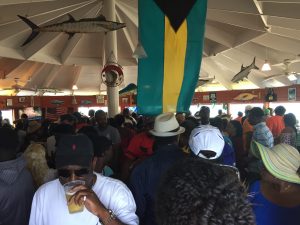 The festival, he added, is truly unique in its ode to Bahamian culture and the traditional pastime of sailing. V. Alfred Gray, the Minister of Agriculture and Marine Resources, attended the festivities in his capacity as patron and government representative
One new addition to the island, which helped draw in more boaters, was the building of a 200-foot dock.
Although the dock made life easier for some of the boaters, the vast majority, numbering in the hundreds, were moored all around the island of Little Farmer's Cay.
A steady fleet of dinghies were resting on the beach, as hundreds of guests jammed onto Ty's spacious patio and inside the restaurant.
"Tourists love this island and the festival because it is an authentic experience. The Farmer's Cay Regatta might be only once a year, but we are here all year round to offer that experience," Monroe added.
Ty's Sunset Bar & Grill features an array of traditional Bahamian favourites – such as ribs, chicken, conch and grouper – in a private island setting but with all the mod- ern bells and whistles. High-speed Internet and cable tele- vision are available. The restaurant is literally steps from a 2,500-foot airstrip on one side, and an expansive white sand beach on the other.
Equally special is the community of Little Farmer's Cay itself, which is home to dozens of full-time residences.
Visitors can explore the town's sites, such as the friendly sea turtles off the fishermen's dock, or J.R's Wood Art Shop, where you can browse hand-carved statues made from local materials.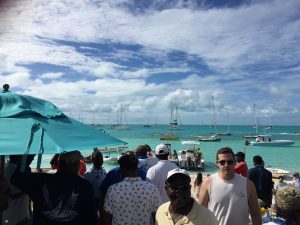 In addition to its assets on Little Farmer's Cay, GIV Bahamas Inc. also operates Prospect Point House on Big Farmer's Cay, just a short, 5-minute boat ride away. Resting on a peninsula and around 7-acres of land, this amazing three-bedroom home offers the full private island experience, but with cell phone service, high- speed internet, laundry services and solar powered electricity. A backup generator is provided.
A 17-foot Boston Whaler is available as an optional rental for zipping around the neighborhood and seeing the sites, such as the Question Mark Sandbar, giant iguanas, blue holes and the famous swimming pigs.
Click here to learn more about renting Prospect Point House and the Farmer's Cay area.