Emerald Bay showcased on Web.com Tour
Great Exuma Classic, televised on NBC's Golf Channel, will be held at Greg Norman Course for next three years
Emerald Bay's world-class golf course was on display this month for the first time at The Great Exuma Classic, providing major exposure and television cov- erage across North America and in more than 200 countries.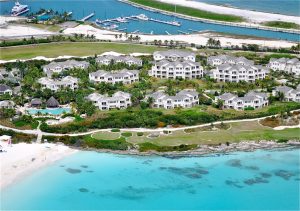 The tournament served as the opener to the 2017 Web.com Tour, a professional circuit where the best golfers can earn their stripes to the PGA TOUR. Dozens of talented golfers took on the challenging Emerald Bay Golf Course designed by golfing legend Greg Norman.
GIV Bahamas Inc. served as a sponsor for the inau- gural event, which is contracted to be held every January at Emerald Bay through 2020. Book your hol- iday for early January 2018 to watch this event in person.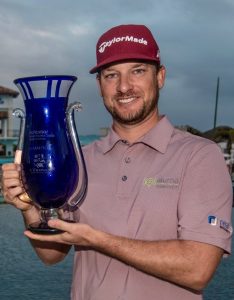 "Emerald Bay was an incredible course, the people of Exuma were terrific hosts and the golfers were continuously praising the event and the location," said Catherine Clifton, the tournament director. "The weather conditions were more than challenging, yet, given those conditions and our unique television schedule (Sunday through Wednesday), the Web.com Tour saw record exposure unlike any previous event."
With Grand Isle Resort located in the very heart of the Greg Norman Signature Course, the former Four Seasons Residence was showcased to the sporting world through NBC's Golf Channel network. Grand Isle guests and owners have full access to this amazing course at a reduced rate.
In addition to the tournament, the event featured a Pro Am, intimate evening soirees at Sandals Emerald Bay, Q&A's with the players and even a meet-and-greet with Greg Norman himself.
To say the course played challenging at times is an understatement. While stunning, the course's back nine, which is entirely on the ocean, was made all the more difficult by unseasonal wind gusts as high as 40 mph. It was survival of the fittest and a true test of golf for even the most seasoned professionals.  But in the end, tour veteran Kyle Thompson was victorious on the final day, posting a respectable -2 due in part to some amazing putting.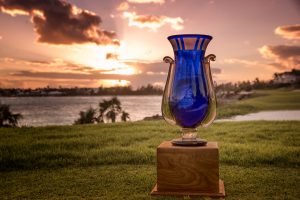 "I can't describe how well I played, especially the way I putted," Thompson told Golf Channel. "It's probably the best putting week of my life. I don't think I had a single three-putt. Just really grinded, made a lot of 6-8 footers didn't let the bad shots bother me and felt like I was in my own little bub- ble out there on the golf course."
For the full interview with Thompson from the Great Exuma Classic, click here: http://www.golfchannel.com/news/golf-central-blog/k-thomp- son-wins-webcom-opener-breezy-bahamas/
Missed the inaugural Great Exuma Classic? Contact us today to reserve your spot for January 2018