Exuma Foundation invests $250K into island programs
GIV Bahamas sits on board of both Canadian & US Foundations.
The Exuma Foundation and the Exuma Foundation of Canada invested more than $250,000 in infrastructure and social programs last year, focused primarily on the areas of education, healthcare and the environment.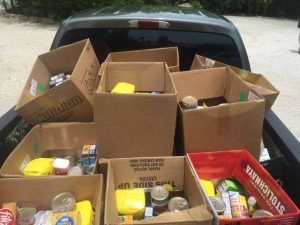 The stunning, 6-acre campus, located just a few minutes away from George Town, the main settlement in Exuma, is well known to the local community. It provides services such as a food bank, hurricane shelter, nature trails and a school for students with mental disabilities. But for the majority of tourists and second-home owners that come to Exuma, this facility and its good works remain largely a mystery.
"People in Exuma know us, but we want the island's visitors to know about us as well," said Chris Kettel, the President of the Exuma Foundation. "Our campus is open to anyone who wishes to visit. There are a lot of people out there who consider Exuma a kind of second home, and we are here to
make it the best island it can be."
In addition to the programs and upkeep of the Exuma Foundation campus, the major programs include a youth sailing club, an ambitious environmental education initiative and Starve Poverty, an organization that builds or renovate
homes or infrastructure for the poor.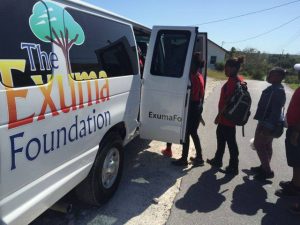 Earlier this month, for example, Starve Poverty assisted an elderly, impoverished couple that had lost half of their roof during last year's storm, Hurricane Matthew.
"The sailing club showed up with 30 stu- dents who cleaned it all up and helped with the construction," said Kettel. "The people running the club believe there has to be dis- cipline and a sense of community. So that program has been very encouraging for us."
In terms of the environmental education program, the Exuma Foundation has enlisted a full-time staff member to enter the schools and create organic gardens, while also working with local residents to cultivate gardens in their backyards. A bee keeping operation was also established last year on the Foundation campus.
Meanwhile, the newly formed Exuma Foundation of Canada made its first substantial contributions in 2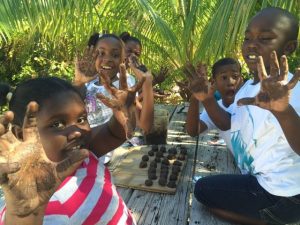 016 by awarding the first ever Pompey Scholar- ship to one of Exuma's top high school students who lacked the financial means to attend university. She started in September 2016 as a freshman at Acadia University. Funds were also used to help purchase a hospital bus so the sick, elderly and chronically ill, with no means of transportation, can reach the island's hospital.
GIV Bahamas Inc., which founded the Exuma Foundation of Canada, and sits on the Board of the Exuma Foundation, remains committed to continuing these programs and coming up with new ways to uplift the community.
"For those of us that routinely vacation in Exuma, and especially for those that own a home there and invest, it is so easy to see how just a small in- vestment in time or money can really go a long way on the island," said Peter Nicholson, Partner and Director at GIV Bahamas Inc. "Philanthropy is my day job, and I can tell you, unlike bigger places in the world, Exuma is so impressionable and there is so much to be done. Like Chris, I encourage everyone to get involved and visit the Exuma Foundation and meet some of the amazing people there."
Tax receipts are available for both Americans and Canadians that make donations.
You can visit the Exuma Foundation and learn more about its programs here: http://www.exumafoundation.org/