Cycling star joins Ride for Exuma
Christian Vande Vedle and other cyclists join charity ride from Feb 9-12 through the tropical paradise of Exuma. Last minute participant or observer spots available.
Philanthropists and cycling enthusiasts are all set to hit the streets of Exuma next month for the third annual Ride for Exuma, with this year featuring a retired US road racing star.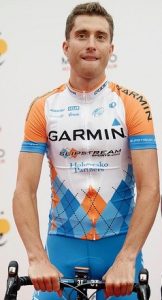 Christian Vande Velde, whose lengthy and successful international career includes a 4th place fin- ish at the 2008 Tour de France, will lead a spirited group of amateur cyclists through some of the most beautiful tropical terrain on the planet. Ride for Exuma (www.rideforexuma.com) is a non- profit event that raises significant funds for the island each year through the Exuma Foundation and the Exuma Foundation of Canada.
"This is my first experience at the Ride for Exuma, although my family and I are familiar with the island. It is such a beautiful place and ideal for cycling," said Vande Velde, who will be staying at Grand Isle Resort as the event patron from February 9-12. "It is a cherry on the cake that we get to have such a great experience while also raising money for a worthy cause."
In addition to several appearances and strong finishes at the Tour de Tour, Vande Velde secured major wins at the Redlands Bicycle Classic (1999), the Tour de Luxembourg (2006), Tour of Mis- souri (2008) and the USA Pro Cycling challenge (2012).
While the charity ride will feature some star power, the event itself is open to cyclists of all skills and abilities, featuring rest stops, water stations, pace cars, mechanical support and a police escort.
Cyclists will enjoy a special banquet on the Friday night at Grand Isle Resort, the official hotel of Ride for Exuma, and an excursion up the Exuma Cays on the Saturday, including a stop at the world famous Swimming Pigs, by Sun Fun Tours.
Last year, Ride for Exuma raised enough funds to help purchase a hospital bus for the new state-of-the-art medical centre on the island. The wheelchair accessible vehicle allows hospital staff to pick up the elderly, disabled and sick in Exuma's more isolated communities – a service that did not exist in the p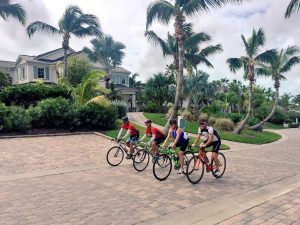 ast.
For 2017, organizers plan to put fundraising dollars towards a new Children's Shelter at the Exuma Foun- dation, where orphaned, neglected or abused kids can find care and comfort. Also, Ride for Exuma is concurrently investing in an arsenal of road bikes to donate to the local high school, with the goal of creating a "bike library".
Students will learn bike mechanics and maintenance, and sign them out on a temporary basis.
In fact, thanks to the influx of bikes onto the island, up to 20 students will be riding side by side with Vande Velde and the other cyclists.
"One of our goals is to also promote personal fitness and healthy living," said Howard Chang, a homeowner on Exuma and the founder of the race. "The people of Exuma are amazing, and we really have an opportunity to make a difference here. The community has embraced cycling culture, the seeds have been planted, and I'm excited to watch it grow."
There are still a few spots available for this unique experience. Write us to learn more about Ride for Exuma and book secure your spot. Special rates at Grand Isle are available.
Donations are welcomed and tax receipts for Canadian and American tax payers can be issued.