Pilots rave about latest fly out
Collaboration with Heaven's Landing, St. Pete Air and Odyssey positions GIV Bahamas Inc. as leader in private aviation tourism 
More than a dozen private planes took to the skies earlier this month for Heaven's Landing Fly Out at Grand Isle Resort, as word continues to spread about GIV Bahamas' new aviation program.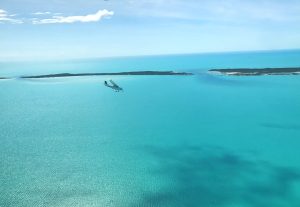 They say it is the journey that matters, not the destination. In the case of this fly out, it was most definitely both.
"We were excited to participate in the Heaven's Landing Fly Out to Grand Isle because we have flown over the Exumas several times going to other Bahama destinations and we were always struck by the beauty of the Exumas," said Pat Wager, who flew in a Cessna 182 from Naples, Florida.
"We were not disappointed with the visual paradise we experienced from the air."  The destination proved to be equally impressive.   "Grand Isle Resort is first class on a world class beach," Wager added.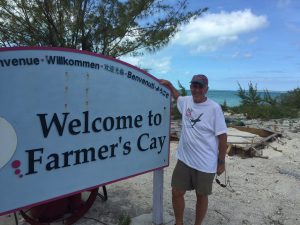 "Odyssey Aviation at the Georgetown International Airport provided red carpet service.  All the arrangements for the Fly Out  accommodations, ground transportation, dinners and boat excursion were organized.  All we had to do was make the flight plan and enjoy the experience.  Great memories from our first trip and looking forward to being back in the Exumas."
In total, close to 50 people joined a series of events and dinners from November 10-13. The fly out is part of a larger private aviation program recently undertaken by GIV Bahamas Inc., which seeks to cater specifically to this unique group of  adventurers.
GIV Bahamas Inc. has joined forces with Heaven's Landing, a gorgeous fly in community in northern Georgia, while also developing strategic relationships with St. Pete Air and Odyssey Aviation in Exuma.
The company has also joined Heaven's Landing at a series of aviation shows to meet pilots and introduce them to the program, such as COPA, Sun N Fun and Oshkosh.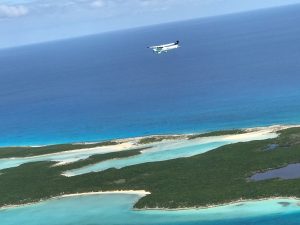 Over the course of three days, the group experienced the Exuma Cays by both land and air. Pilots got the chance to land on the 2,500-foot airstrip on Little Farmer's Cay and enjoyed a fantastic tasting lunch at Ty's Sunset Bar & Grill, while also  cruising up the archipelago by boat and visiting all the attractions, including the Thunderball Grotto, the Swimming Pigs, giant iguanas, the Question Mark Sandbar, caves and more.
"The water colors of Exuma are just breathtaking, especially when viewing them from a plane at low altitude," said Patrick O-Brien, who operates Aqua Blue Meetings, a group travel company for pilots. "I don't think I have seen prettier colors anywhere in the world! Farmer's Cay was a very special visit for a pilot. It isn't often that you can make such a short walk from your plane to the beach!"
In addition to Exuma's natural beauty, the pilots also visited two of the island's most popular restaurants.
Upon arrival, the group enjoyed an "Island BBQ" dinner at Grand Isle, followed by a Junkanoo performance on Emerald Bay Beach. On Saturday evening, the pilots arrived at Catch A Fire, where they enjoyed signature cocktails, delicious food and entertainment from a lively Bahamian band and interactive shark feeding in the crystal-clear, shallow waters nearby.
To learn more about GIV Bahamas' plans in private aviation, or to inquire about future fly outs, write Jeff Todd.