Grand Isle plays host to '16 Weddings' event
Canadian couples across the Bahamas to say 'I do' simultaneously on November 16.
Agnes Matubis was browsing her Facebook, like millions of others from around the world, when an advertisement popped up on her news feed.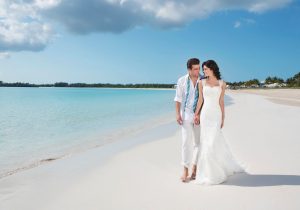 Curious, Anges clicked on the link to the Bahamas Ministry of Tourism website, where she found out they were giving away 16 weddings to 16 lucky Canadian couples, all expenses paid.
"I nearly jumped out of bed!" Anges said, who is from Blackfalds, Alberta.
"I woke up my fiancé and told him he should join the contest. We did! And we were picked as one of the finalists! When they announced that we were one of the lucky couples that are getting married on Exuma, I was even more excited."
Next month, on November 16, the Ministry of Tourism will officially launch its highly anticipated 'Bahamas 16 Weddings' campaign.
Agnes and her finance, Travis, will be saying "I do" simultaneously with 15 other couples around the Bahamas, with ceremonies taking place on Nassau, Abaco, Eleuthera, Long Island, Andros, Bimini, Paradise Island, Cat Island, Harbour Island, and of course, Exuma.
Grand Isle Resort will play host to the happy couple in Exuma after GIV Bahamas Inc was approached with the opportunity.
"It's like a piece of paradise," she added.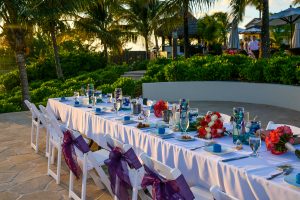 "The island has lots of activities and I can't wait to swim with the pigs. I have always wanted to try it. I can't wait to get married at Grand Isle. It looks like a beautiful place."
Each couple will receive round-trip airfare to the Bahamas, hotel accommodations, meals, wedding ceremony, cake, flowers, a rehearsal dinner, reception and even a personal wedding coordinator to assist with the big day.
Grand Isle has long been an ideal venue for romance, weddings and adventure.  With spacious and luxurious villas, ample amenities and one mile-long beach, the resort's gated community offers unparalleled intimacy and convenience for groups. Last year, Grand Isle famously played host to ABC's The Bachelor, where the contestants all went out on an excursion into the Exuma Cays to see the famous Swimming Pigs.
"There are few places in the world as beautiful and romantic as The Islands of the Bahamas. With the celebration of our 16 weddings event, we hope to share the wonder of our country," said Vinincia Strachan, Senior Manager of Romantic Travel, weddings and Honeymoons.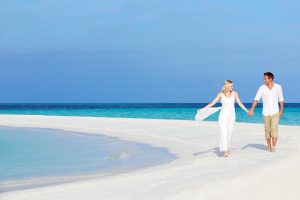 "We look forward to welcoming the couples and their guests."
You can learn more about the massive Bahamas marketing campaign by visiting its website here: http://bahamas16weddings.com/
In Exuma, its 26° and beautifully sunny. With such perfect weather all winter, you should make it your perfect dream getaway too!