Swimming pigs begin their Veterinarian Program
The world famous swimming pigs of White Bay Cay had their routine check with their doctor this month. This was the first in a series of scheduled visits as the Exuma Foundation of Canada rolls out a full medical program to ensure the attraction is safe and healthy for future generations.
Dr. Winston P. Davis, a veterinarian from the All Creatures Animal Clinic in Nassau, performed his initial assessment of the swimming pigs located near Emerald Bay and crafted a plan for ongoing care.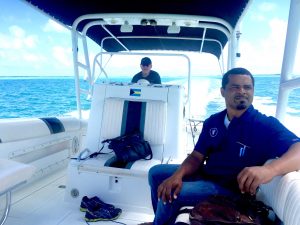 While the pigs have been a popular attraction for some time, and received medical treatment as needed, their popularity has skyrocketed in recent years. The surge is due in part to the release of the feature  film 'When Pigs Swim™', viral online campaigns, consistent appearances in music videos, TV shows and magazines and enhanced marketing by resorts and tour operators such as Exuma Water Sports and Harbour Safaris in Nassau.
The new veterinarian program is a collaborative effort between the Exuma Foundation, the Exuma Foundation of Canada and the Bahamas Humane Society.  The Exuma Foundation and Exuma Foundation of Canada offer tax receipts for donations for both Canadians and Americans who donate to its charities.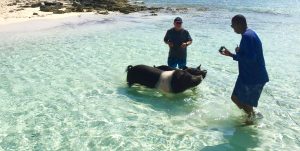 "The Exuma branch of the Bahamas Humane a Society and The Exuma Foundation have partnered to bring necessary health care to the world famous Exuma swimming pigs," said Lissa McCombe, a Board Member at the Bahamas Humane Society Bahamas Humane Society of Exuma will provide the veterinarians as wells as medical treatment to ensure the Exuma swimming pigs receive the necessary vaccinations, and where appropriate spay and neuter attention.
This will ensure that the Exuma swimming pigs that are enjoyed by tourists and Bahamians alike are healthy, given necessary attention and will be enjoyed by all in a humane and caring environment for years to come."
Dr. Davis was taken to see the pigs near Emerald Bay by Exuma Water Sports, which has supported the effort to promote the animals health and well being.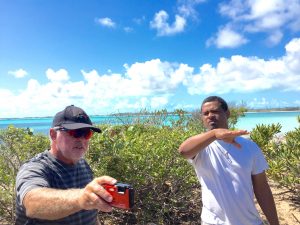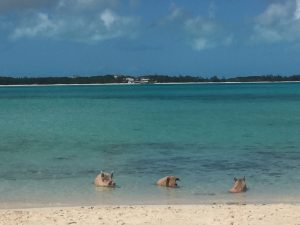 To stay up to date on the swimming pigs and the new veterinarian program, you can visit 'When Pigs Swim™' official website at or check out their Facebook page.