Exuma Foundation Helps Purchase Hospital bus
The Exuma Foundation of Canada will make a substantial donation this spring towards the purchase of a bus for the island's new hospital, a step seen by many as integral to reaching residents in isolated communities.
The donation, in collaboration with the main Exuma Foundation, represents the first major contribution by the Canadian arm.
Exuma's new hospital is an impressive facility, spanning 30,000-square-feet and outfitted with an operating room, dental facility, physiotherapy, a morgue, emergency room and other services.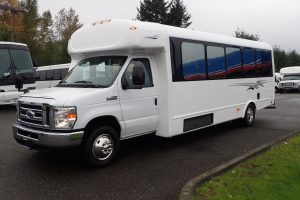 However, what it lacks is a means of getting patients to the hospital, particularly those that are elderly, chronically ill and have no access to transportation. In fact, many of the island's 6,000 or so residents, living in communities off the beaten path, do not have access to a vehicle.
"In the early going, we were given a list of things the hospital needed, that were not going to be provided by the government. The first thing on that list was a bus," said Chris Kettel, a long-time board member and leader of the
Exuma Foundation.
"Why would you want a bus? The response was for community health. "They can take it out to the communities to work, and bring in people as well."
Kettel also noted that, since the new hospital opened, medical services on the island have consolidated, leading to the closure of smaller clinics.
"The people in those communities who might have gone to the clinic and just walked down the road, will think twice about going into Georgetown and the hospital. But if you know the bus is coming and will bring you back again, those people will get covered," according to Kettel.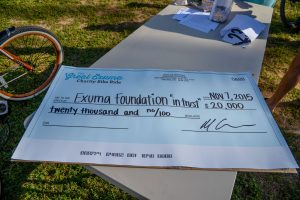 A large Ford Starlite bus, capable of holding 12 people and two wheelchairs, will arrive on the island in the coming weeks to meet this need. It also features a large double-lead entrance door, air conditioning and wheelchair equipment.
The donation from the Exuma Foundation of Canada has been primarily fueled by the recent Ride For Exuma, an annual cycling event attracting philanthropists from both the United States and Canada. The next Ride for Exuma is scheduled for February 2017.
The Foundation also supports other initiatives involving education and healthcare, such as The Pompey Scholarship. The scholarship, which will be awarded for the first time at the island's high school graduation this summer, allows one student to attend a college or university of his or her choice.
The Exuma Foundation and the Exuma Foundation of Canada offer tax receipts for Canadian and American donors.
To learn more, get involved or make donations please contact  jeffrey.todd@givexuma.com