Shark Tagging returns to Grand Isle this February
Registration now open for an exclusive experience in 2020, allowing tourists to assist and participate in scientific research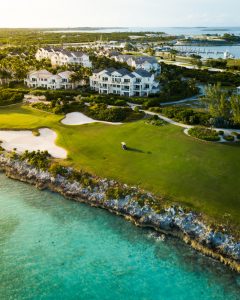 A truly unique and mind-blowing experience in the Caribbean is returning in early 2020 to Grand Isle Resort & Spa.
Shark Tagging Adventures, where you have the opportunity to learn and participate in crucial scientific research, will be taking place in Exuma for the last two weeks of February. After being greeted at Grand Isle reception, guests are transported to a boat where they receive an intimate briefing on why shark tagging is so important, and what adventures they will experience that day.
Of course, the anticipation can never quite live up the reality, when you eventually come up close and personal with one of the most majestic and misunderstood animals in the world.
"In the last year, this program exposed more than 100 people of all ages to the world of shark conservation. Tagging and releasing 67 sharks in the region, including tigers, bills, reef sharks and nurse sharks," said Dr. Austin Gallagher, the renowned biologist, and shark expert.
Registration for February is now open. You can also fill out a form indicating another time of year that might work best for you.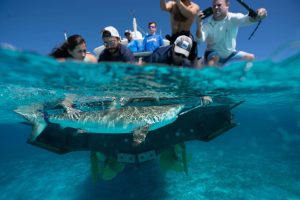 Dr. Gallagher will be joined by other leading researchers, all of whom take guests step-by-step through the process of tagging sharks.
"I have performed research like this all over the world," Dr. Gallagher adds, who is also the founder of a nonprofit NGO called Beneath the Waves. "The Bahamas is a protected area for sharks. And Exuma itself is such an amazing frontier – I like to call it the Serengeti of the Ocean. To expose everyday people to these animals and this research is special. Their faces light up every time. It never gets old."
Covered by Forbes, Lonely Planet, Scientific American, and many others, this new tour took the Internet by storm in 2018. In addition to being a true unique experience, guests have been captivated by the opportunity to participate in and support genuine scientific research.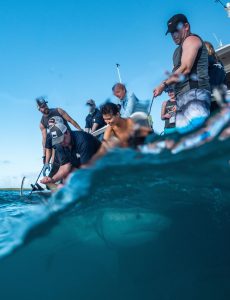 Shark Tagging Adventures is a public-private partnership between Beneath the Waves and Grand Isle Resort & Spa, whereby Dr. Gallagher and his team receive a donation of at least US$500 for every person on the tour. This donation goes directly to protecting and monitoring The Bahamas shark population.
To learn more about Beneath the Waves and why sharks are so important to the future of our oceans, click here.
You can also watch a video testimonial of past shark tagging guests here.