Pompey Scholarship winner inspired by tragedy
Awarded each year to a student on Exuma, scholarship is made possible by the Exuma Marathon, with the next race on November 9th; Registration is now open with a special booking code for Grand Isle Resort
When Sanaaja Smith learned that her brother suffered from a severe mental illness, she did more than offer her support –
she studied.
Smith, a resident of Exuma, said her brother experienced a series of traumatic incidents as a child, including the loss of her father, which she believes "pushed him over the edge". While she had always been an excellent student, news of his diagnosis inspired her to better understand the human mind.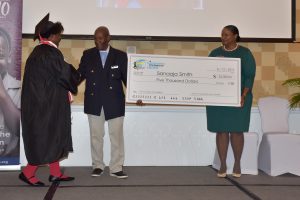 So she studied. And studied.
And now, she is the 2019 Pompey Scholarship recipient, awarded last month at the L N Coakley High School graduation ceremony. Smith will attend the University of The Bahamas in Nassau with a major in psychology.
"I aspire to be a clinical psychologist. Once I heard about my brother, I just started doing research, understanding how these things happen, and my interest just bloomed out of being in that situation with him," according to Smith. "I'll miss Exuma very much. It is a very peaceful place and not as frantic as Nassau. But I am also very excited and appreciate this amazing opportunity."
Smith is the 4th recipient of The Pompey Scholarship, awarded to a deserving student each year through the proceeds of the annual Exuma Marathon, featuring The Run For Pompey, which this year will take place on November 9th. Registration is now open.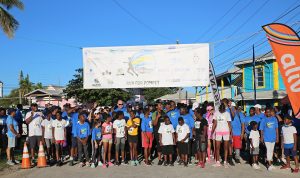 The race, founded by GIV Bahamas Inc, the largest owner at Grand Isle Resort, has become an anticipated staple of the Exuma tourism calendar. Last year represented the event's first-ever sell-out, attracting hundreds of participants from throughout The Bahamas and abroad.
In fact, the race has been known to bring in runners from not just the United States and Canada, but also more far-flung countries such as Germany and France. But while Exuma Marathon has emerged as a celebrated community event, and a boost to the local economy, it remains entirely nonprofit, with all funds going towards The Pompey Scholarship.
"Sanaaja was selected because she is one of our top graduates (in the top 1%) who has made significant strides academically but lacks of the financial means to further her education," said Don Barr, the principal of L N Coakley High School. "She is also one of our top band members and is talented in playing the trombone. We couldn't find a more deserving student."
As an event with social impact, Exuma Marathon is well supported by the community, featuring many important local sponsors. The event's title sponsor is BAF Financial Group, which has been with the event from the beginning. Other major sponsors include GIV Bahamas Inc., Grand Isle Resort, Sands Beer, Aliv and the Caribbean Bottling Company.
For those flying in for the event, Exuma Marathon provides a unique opportunity to have a memorable holiday while also participating in an event with impact and authenticity. The professionally timed race has something for everyone, with short routes for the whole family and a grueling Ultra Marathon for those die-hard runners, otherwise known as The Run For Pompey.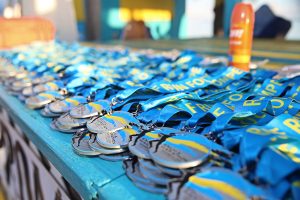 Pompey, commonly considered one of the country's foremost historical figures, led a slave rebellion on the island in the 1830s when 77 men, women and children were scheduled to be transferred off the island, separating families. Pompey defied the transfer order and preventing it from happening. Today, Pompey is honoured in Exuma by a statue and by a museum in Nassau.
"For my husband and I, Exuma Marathon is the perfect mix of fitness, relaxation, and fun. This island is definitely one of the most beautiful places in the world," said Lacie Flannery, who attended the race last year with a group of friends.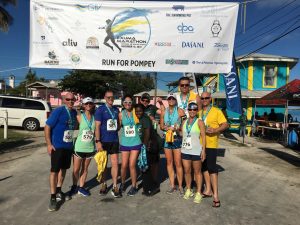 "It's just such a unique experience for anyone seeking a new destination race. The island is really special and we will be coming back for the next one!"
Grand Isle Resort is offering a special package for runners. Using the promo code POMPEY, guests will receive 35% off the normal rate for their villa of choice, along with free access to the traditional Pasta Night on November 8th, the night before the race, at the resort's brand new beach club, 23 North.