Exuma, 300km south of Abaco, was untouched by Hurricane Dorian. Nevertheless, Grand Isle owner Steven Daiagi has made it his mission to bring relief to those that need it most
Ever since Hurricane Dorian passed through the Northern Bahamas, Steve Daiagi has been in the air.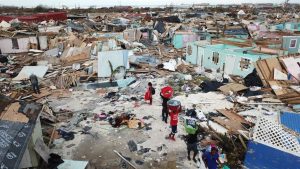 The South Florida resident, who also owns a home at Grand Isle Resort in Exuma, Bahamas, has made it his mission to help Bahamians in need. Even though Exuma and Grand Isle were completely untouched by the catastrophic storm, Daiagi, who owns a jet and helicopter, dedicated himself to bringing relief to those most vulnerable.
In addition to his personal efforts and support, he has launched a Go Fund Me account so he can purchase more funds supplies and relief, which has raised over $63,386 – so far.
"The Bahamian people…these are my people. I have a home in The Bahamas," Daiagi says, who estimates he has run close to 25 relief missions with his aircrafts in the last month. "If you don't give in this
world you don't get. It's just the way I feel and I believe in it."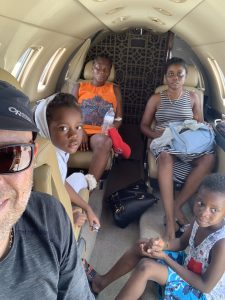 Hurricane Dorian, a slow-moving, Category 5 storm, first struck Abaco on September, before dragging onwards towards Grand Bahama. It left unprecedented damage in its wake, with more than 60 dead, 70,000 homeless and billions in damage. Exuma and Grand Isle Resort, where Daiagi has a home, is more than 300km to the south. It had sunny skies that day, with barely a hint of the destruction to the north – and it remains completely open for business.
Daiagi had not been personally impacted. Nevertheless, he made it personal. The storm had barely left The Bahamas by the time his helicopter had already landed in Nassau, ready to help and deliver aid. Almost immediately, Daiagi and his team, including his wife and daughter, have been delivering aid, evacuating Bahamians and even flying in rescue teams.
Shortly after one of his first relief missions, Daiagi was approached In Nassau by 16 rescue workers that had flown in from Oregon, all looking to get themselves to the affected areas. "I told them there was no way I could do it now. I will come back in the morning with a load of supplies," he remembers. So I put them up in hotels that night, and when I returned, I had to make six trips to bring their 16-man crew and their dogs to Treasure Cay, in Abaco."
Describing his first-hand look at the devastation as "10 times worse than what you've seen in pictures", Daiagi has been non-stop ever since, simply because the need is so great. He has run relief to churches in Grand Bahama, where people are being cared for. He has brought generators to the airport's control tower. His daughter, who works in aviation, is working with NEMA to arrange planes to these islands to save people, at no charge. Daiagi also gives a great deal of credit to Odyssey Aviation, the private terminal in Nassau, which has turned an entire hanger into a relief zone and used their trucks to haul supplies to nearby orphanages.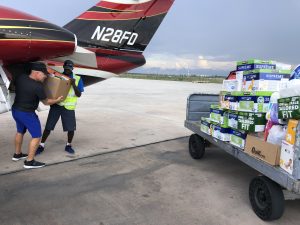 A great deal of his focus, he says, has been on the children. Daiagi has been providing supplies – diapers, lotions, bedsheets – to overwhelmed orphanages and safe houses in Nassau, where so many of those most vulnerable have found relief. Every time he returns to Florida, he heads off to Walmart to buy thousands of dollars' worth of supplies, before heading back up into the air, for The Bahamas.
Stories like those from Daiagi demonstrate not just the scale of the devastation, but also the fact that there are many people out there more than willing to help. And while not all of us have the same time or resources, there are many ways to still help.
One way is to make a donation, such as Daiagi's Go Fund me account.
Another way is to simply plan your next visit to The Bahamas. An archipelagic nation, the country is about 1,000km long. While devastating, Hurricane Dorian only impacted a small portion of The Bahamas, a destination that relies heavily on tourism dollars.
"We are open for business. Beautiful weather. Lovely beaches. No traffic. Incredibly friendly people. And so we are encouraging people to let people know The Bahamas is very much open for business," Dionisio D'Aguilar, the Minister of Tourism and Aviation, recently told Global News in Montreal, Canada.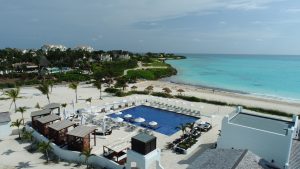 The best way you can help us, he adds, is to come and visit and have a beautiful vacation. D'Aguilar even had a few words of encouragement for Exuma and its world-famous swimming pigs. "Come to our hotels, go to our restaurants, go on our excursions," he explains.
"Of course the swimming pigs, completely unaffected. They are waiting for people to come visit them. They are wondering what's happening."
In response to the storm, Grand Isle has launched a Bahamas Strong package – 10% of every booking will be donated to Bahamas- recovery efforts, with a commitment to ensure these funds will reach those that need it most. You can learn more about the package here.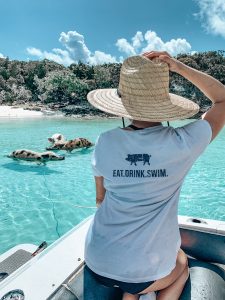 For Daiagi, he is also planning a much-deserved holiday at his home at Grand Isle Resort. Of course, he will also be bringing a plane load of supplies with him, to assist those that have sought refuge on Exuma.
Overall, while so much work has been done, Daiagi insists that people cannot forget about The Bahamas once the story slips off the front page. It will be a long and sustained road to recovery for Abaco and Grand Bahama – and The Bahamas needs your support.
"People will go back to their lives," he says. "Whether we like it or not, that's what happens. I've spent $30,000 of the $64,000 or so that we've raised. And I'm in no rush to spend it. We will continue to bring loads of supplies and raise money. We're going to continue to focus on the kids. That's just what we are going to do."
Brands affiliated with The Bahamas such as The Swimming Pig Store have made limited edition #BahamasStrong shirts to help raise much-needed funds and awareness for Hurricane Dorian relief efforts, donating 100% of the profits from sales to Bahamian Red Cross & related organizations.