GIR owners on mission to help Exuma's pups
In a few short months, Cindi and Bill Gianopoulos have saved several animals, raised donations and worked with the Humane Society Exuma to assist hundreds of dogs and cats on the island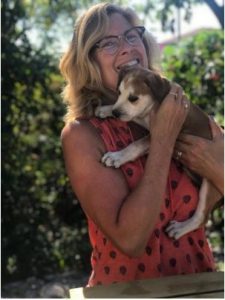 There are some places in the world that leave a mark. Maybe you have that unforgettable experience, a memorable photo to frame and display in your home.
Then there are places that not only leave a lasting impression but also make you want to give part of yourself.
Exuma is one of those places.
Cindi and Bill Gianopoulos, business owners from Lawrence, Massachusetts, have been traveling to The Bahamas for years. These longtime owners at Grand Isle Resort have explored every corner of Exuma by land and by sea. Charming, beautiful
and safe, the island felt like home. But it wasn't until a chance encounter last December, with a stray puppy near Emerald Bay beach, that Bill and Cindi started their mission.
"I have always loved animals and seen the strays on the side of the road," Cindi explains."I was visiting a lady who has a shop at the end of the beach when I saw this puppy in the nearby woods. I had to get him. I couldn't just leave him there. These animals are helpless – and they love you back. They deserve our time to help them." Dirty, riddled with fleas and ticks, and with a wound near its eye, Cindi and Bill took the puppy to the Humane Society Exuma, an experience she describes as "wonderful". By the end of that visit, the puppy was no longer a stray. He was Tucker, a family pet.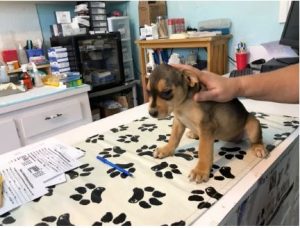 Cindi and Bill didn't stop there.
Exuma is home to perhaps hundreds of stray dogs, mostly a breed known as Potcakes, a loveable, good-natured animal that is common on several Caribbean islands. While they couldn't adopt every dog on the island, they took it
upon themselves to get involved. In just a few short months, the family has rescued seven dogs and one cat. Twice, Grand Isle homeowners, with private jets, carried dogs back with them to the United States so they could meet their new owners.
To help locals without access to a car, these Grand Isle owners have even taken dogs and cats to get spayed, neutered, and vaccinated before delivering them back home. Meanwhile, Cindi and Bill are working with the Humane Society Exuma to gather donations, establish charitable status and create a sustainable solution for the island's strays.
"In Exuma, most dogs do not live inside the home. There is a cultural difference. Spay and neutering is not common, and so the population just grows," Cindi says. "What's tragic is many of these animals develop heartworm, so they only tend to live
for just four or five years. The Humane Society is out there educating, picking up stray dogs, and doing what they can."
Dr. Issah Hanson is the organization's only veterinarian, and he lives in Nassau. Dr. Hanson has to travel to Exuma on his weekends off, typically once a month, to perform surgeries and procedures.
"We receive no government assistance, and must rely solely on income generated from services and the
donations of our generous sponsors," says Ellen Sykes, a volunteer for the society. "We are always in need of
medicines, supplies, and equipment."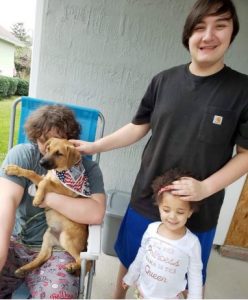 The society is currently located in a cramped space at Bahama Sound, just off the Queen's Highway. Although the organization has recently obtained funding for an x-ray machine, the space is too small to safely operate it. Plans are underway to expand the clinic into the unit next door. The Humane Society Exuma might be short on volunteers and capital, but it is rich in ambition. A Florida based non-profit – Friends of the Humane Society Exuma Inc – has just been created to assist with fundraising. It has even launched a new Go Fund Me page to raise money for the animals.
In the end, on a developing island like Exuma, there are many causes that need a helping hand. For Cindi and Bill, it just happened to be animals. Whether others choose to join their cause or establish their own, it is the beauty of Exuma and its people that inspires people to make a difference.
"This island has been our home away from home for so many years," Cindi says. "It's just special. Of course, Exuma itself is beautiful, but the safety of the island and the warmth of the locals makes it totally different compared to so many places in the Caribbean. We are emotionally invested as well. It's much more than a holiday for us."
To learn more about Humane Society Exuma, you
can visit its Facebook page here.
If you would like to make a tax-deductible charitable donation to any cause in Exuma, the Exuma Foundation of Canada and Exuma Foundation of America can provide charitable tax receipts for your North American income tax return.
Please contact Jeff Todd for more information at jeff@wcpd.com