50 Editions, 5 Years of Change
Jeff Todd, Director of Communications at GIV Bahamas Inc., reflects of how far Exuma has come in half a decade
Five years ago, when we first launched the Exuma Blue Newsletter, Exuma was a very different place. While the financial crisis of 2008 was a distant memory, the island still felt like it was stuck in the deep freeze. The energy and excitement of the Four Seasons, which was replaced by a Sandals in 2010, was still sorely missed. Nevertheless, Grand Isle Resort had everything going for it: exceptional construction, a world-class beach and perhaps the most stunning islands in the world as its backdrop.
But something was missing.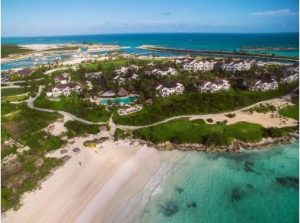 Sometimes, it's hard to imagine how different it was back then. For the most part, Grand Isle wasn't busy. Even Sandals was struggling. The swimming pigs weren't the international celebrities we know and love today. There were no annual events, other than the National Family Island Regatta.
23 North, Grand Isle's beach club, was just a dream: a shell of a building, colloquially known by us as "the white house". There were limited direct flights to the island. And two men named Ja Rule and Billy McFarland, the creators of the disastrous Fyre Festival had never heard of this magical place called Exuma.
Exuma was not on the map – yet.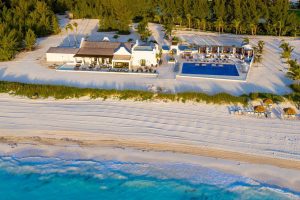 Things have changed. When I was hired by Peter Nicholson, the President of GIV Bahamas Inc., his goal was always to
cast the largest spotlight possible on this hidden jewel. He had a vision. But I don't think either of us expected what would
come next. There are many people out there that played an important role in Exuma's development, people I would call "Exuma Evangelists". When you love Exuma, when you truly understand how special it is, it becomes somewhat of a spiritual experience. It's a feeling that only really clicks when you are standing on a sandbar in the middle of the Exumas, not a soul around, knee-deep in the clearest, most dazzling blue water you've ever seen.
GIV Bahamas has been proud to play its role in the Exuma we know today.
Five years later, many of the resorts on the island are thriving, including Grand Isle. The annual occupancy rate in 2012 was 24% when GUV Bahamas bought 40% of Grand Isle (31 villas). As of 2018 occupancy is now averaging 70% for the year.
Construction is now everywhere you look along the Queen's Highway. Planes are full. Optimism is high.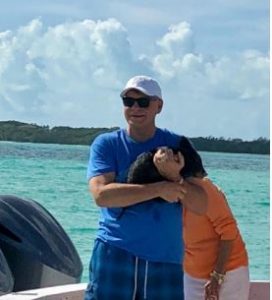 The resort is now guided by a world-class management team, led by our general manager, Lester Scott. His team recently presided over the much-anticipated soft opening of our new $4 million beach club, 23 North, located at the heart of Emerald Bay Beach. The grand opening is scheduled for May 31st. Yes, a lot has changed in five or so years.
Perhaps the biggest change was the ascent of the swimming pigs to worldwide celebrity status. These animals are now known by tens of millions, if not hundreds of millions of people. The creation of the first documentary on the pigs, When Pigs Swim, sparked our collective imagination, setting off a chain reaction of publicity that I recently chronicled in my latest book, Pigs of Paradise: The Story of the World Famous Swimming Pigs.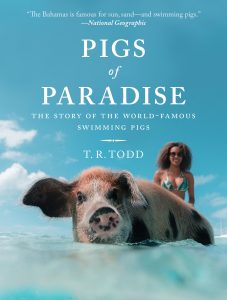 These unorthodox yet loveable ambassadors of Exuma, our very own Mickey Mouse, catapulted the destination onto the pages of countless newspapers, magazines and social media posts. Not only was the original video seen millions of times, but it was chopped up and shared, and used by other outlets to reach millions more. We toured cities for film festivals.
We were featured on ABC's The Bachelor, NBC's The Today Show, and Angry Birds, the most downloaded mobile video game of all time. The publicity seemed never-ending. The phenomenon took on a life of its own, to the point where there are now pig colonies all over The Bahamas. I remember seeing a billboard in New York City of a pig, swimming in the clearest and bluest water imaginable. It wasn't an advisement for Exuma. It was for The Bahamas. The swimming pigs transcended tourism, to become not only an attraction for the country but a national symbol.
Although the swimming pigs have been the highlight, hundreds of other initiatives have helped Exuma along the way.
GIV Bahamas became relentless ambassadors at trade shows, annual meetings, and travel events, spreading the news about Exuma and encouraging agents and influencers to discover it for themselves. We became the squeaky wheel with the Bahamas Ministry of Tourism, always asking for our share of the publicity pie. We brought in high-end retreats with business executives and professional athletes and staged "fly outs" with groups of private pilots.
Fashion shoots with Victoria's Secret and Sports Illustrated showcased the beauty of the Exumas to the world. Fashion
brands such as GUESS and Marciano aligned themselves with Grand Isle in marketing campaigns. Partnerships with
private clubs exposed the island to an elite clientele. We introduced innovative new programs, such as shark tagging
experiences, that went viral and demonstrated our commitment to the environment. And televisions shows such as
HGTV's "Bahamas Life", featuring Grand Isle, showed viewers that Exuma is not only a great place for a holiday, but also
to buy real estate and make Exuma your second home. Every bit of marketing helps. But Exuma also needed traditions: events that it can hang its hat on and attract people to the destination.
We were proud to put on Sochi Under the Sun, an exclusive retreat during the 2014 Olympics where guests could mingle with former Olympic athletes and NFL players.
We introduced a concert series known as Exuma Unplugged, drawing hundreds of tourists and locals together to Regatta Park. GIV Bahamas founded the artist-in-residence program, where painters became
inspired by Exuma's swirling blues.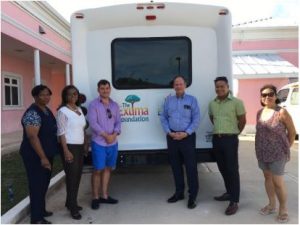 A Michelin-star chef took over our restaurants for a weekend, a tradition that continues to this day.
We stepped up as an inaugural sponsor and supporter of the Great Exuma Classic, a professional golf tournament televised each year on NBC's The Golf Channel.
The Exuma Marathon, featuring the Run for Pompey, is now a major annual event for the island. Tour de Turquoise, founded in collaboration with Exuma homeowner Howard Chang, now offers an annual, high-end cycling experience across the city through The Pompey Scholarship. We have purchased hospital equipment, a hospital bus and revitalized the George Town Basketball Court.
And along the way, we have always given back to the community. After joining the board of the Exuma Foundation, we founded the Exuma Foundation of Canada, so Canadian donors can receive tax receipts. In the last few years, this foundation has helped send three promising Bahamian students to university through The Pompey Scholarship. We have purchased hospital equipment, a hospital bus and revitalized the George Town Basketball Court.
We do all of these things because GIV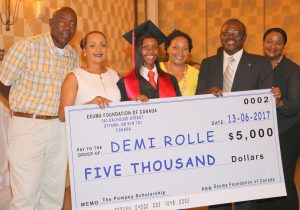 Bahamas believes in Exuma.
And really, that is truly the core of everything we do. GIV Bahamas loves Exuma. We love all of The Bahamas. And while the last five or so years have had its share of ups and downs, successes and failures, GIV Bahamas will continue to bring this island to the world due to one unwavering belief: Exuma is the most beautiful place in the world.
After 50 editions, and hundreds of stories, thank you for joining our journey and reading along with the Exuma Blue Newsletter.