Grand Isle Resort offers shark week of its own
Philanthropic work by GIV Bahamas leads to unique program where guests can participate in shark tagging to help research and preserve our oceans
Clients looking for an out-of-the-ordinary watersports adventure this year should consider an excursion available at Grand Isle Resort & Spa, located an hour's flight from Miami on the shores of Emerald Bay on Great Exuma, Bahamas.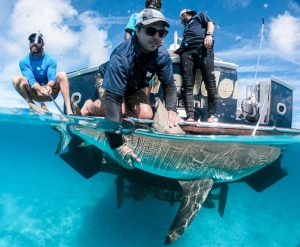 The adventure offers resort guests the opportunity to help promote healthy oceans while studying up close and personal four species of shark in their native habitats.
Guests can reserve a spot on a research vessel to join Austin Gallagher, a leading marine biologist, and the team of Beneath the Waves, a nonprofit organization dedicated to the conservation of sharks, to search for, study and tag hammerhead sharks, tiger sharks, nurse sharks and reef sharks.
The price for each guest who books the one-day shark adventure is $500, and the money directly funds the nongovernmental organization that is working with Beneath the Waves' research efforts, which are aimed at driving real-world change in the oceans.
There are spots available for four guests each day from Feb. 19 to 26. Multiple additional trips will be announced in the coming months.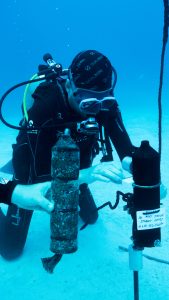 The shark-tagging adventure includes hands-on research, collecting data such as measurements and tissue samples and attaching satellite tags to monitor the sharks' movements.
"Grand Isle Resort is deeply engaged in the conservation of our environment, and through this partnership we are able to contribute to the incredible research being done to protect our oceans and marine life here in the Bahamas," said Lester Scott, the resort's general manager.
He pointed out that the Bahamas is an important shark habitat, and "travelers who join us on this trip will view and work with these majestic animals in a safe environment while learning firsthand from marine biologists."
Gallagher said working with Grand Isle Resort and its guests not only helps get more research done, "but is an incredible opportunity to expose people to the true nature of sharks in the hopes that they will become inspired to become ocean ambassadors interested in the future of our oceans."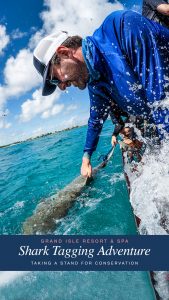 The family-friendly Grand Isle Resort features 78 villas ranging in size from one to four bedrooms. Of the 78 units, 71 are in the rental pool for guests.
Resort rates start at $400 per villa, per night.
Other watersports activities and packages include sportfishing, fly fishing, diving and snorkeling.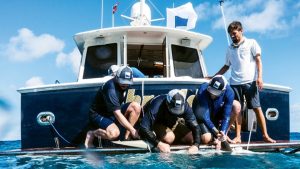 Facilities at the resort include the Palapa Grill, the Seastar Spa, the nearby 18-hole Emerald Reef Golf Club, a kids' club and a choice of several beaches, including the one-mile Emerald Beach that fronts the resort.
Read original story here