GIV Bahamas teams up with PGA Pro for charity
Yacht party at Palm Beach Boat Show auctions off villa at Grand Isle Resort to raise funds for muscular dystrophy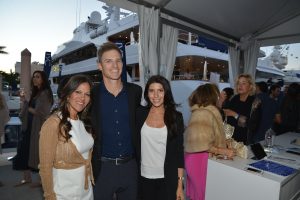 GIV Bahamas Inc. joined forces with the International Yacht Collection and Yachts International at the Palm Beach Boat show this month for a special VIP party to raise funds for an even more special cause.
The private yacht party included over 150 guests and featured several PGA Tour players such as Derek Fathauer, Bud Cauley and Jamie Lovemark. But the night belonged to PGA Pro Morgan Hoffmann, who recently announced that he has been diagnosed with muscular dystrophy, an incurable disease.
After establishing the Morgan Hoffmann Foundation, and receiving an outpouring of support, he continues to work with charities and raise funds so people living with the disease can have a better life.
GIV Bahamas, the largest owner of villas at Grand Isle Resort in Exuma, Bahamas, was pleased to donate a free stay at the property to help earn thousands of  dollars for his foundation.
"This event presented a special opportunity to support Morgan Hoffmann and his cause," said Claudette Pagano, a representative for GIV Bahamas Inc. "Meanwhile, I think the attendees had a great time at this boat show learning about Exuma and sharing their plans for the summer. We look forward to welcoming them and sharing our piece of paradise with these future guests."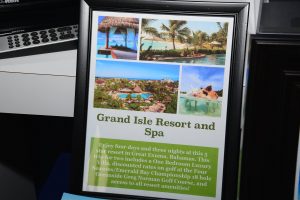 In addition to having the marquee prize at the charity auction, GIV Bahamas was given a booth to showcase Grand Isle Resort and the archipelago of Exuma. The resort and second home community not only benefits from a Greg Norman Signature Golf Course and world-class beach, but also a mega yacht marina, located right in its backyard. The Emerald Bay Marina is the largest, full service facility in Exuma, which has long been a coveted yachting destination due to its hundreds of islands and famously blue waters.
Meanwhile, the golf course surrounding Grand Isle is the venue for the annual Great Exuma Classic, the first event on the Web.com Tour every January.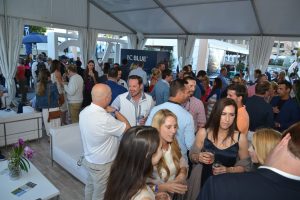 Exuma has seen a marked increase in yachting traffic in late 2017 and early 2018 due to the passage of hurricanes last year, which hit destinations such as St. Barths and St. Maarten. Exuma, by contrast, was spared any significant damage.
The Palm Beach Boat Show is one of the top five largest shows in the US, boasting more than $1.2 billion worth of boats, yachts and accessories from leading marine manufacturers.