Exuma booming in 22% arrival increase
The Minister of Tourism releases new report detailing rise of Family Island destinations
For anyone visiting Exuma these days, it does not take long to appreciate a very basic truth – it's busy.
Of course, Exuma is not, nor will it ever be, "Nassau busy". Instead, there is an energy on the island as just the right number of tourists seem to be discovering what many consider to be the beautiful place in the world.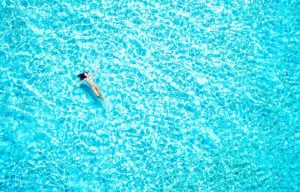 This feeling was confirmed in March when the Bahamas Ministry of Tourism announced that Exuma experienced an increase of 21.7 percent in visitor arrivals for 2017.
"Two hundred and fifty thousand foreign visitors flew into the Family Islands in 2017," said Dionisio D.Aguilar, the Minister of Tourism. "285,000 flew into the Family Islands in 2017. And Mr. Speaker, we're expecting the number of foreign visitors flying into the Family Islands to exceed 300,000 for the very first time in the history of this country in 2018."
Of course, the lion's share of visitors still visit Nassau and Paradise Island. But interestingly, the pendulum has begun to more often swing to destinations such as Exuma, as tourists seek unique experiences and untouched beauty over the big crowds.
And there is every reason to believe Mr. Aguilar's strong prediction for the future.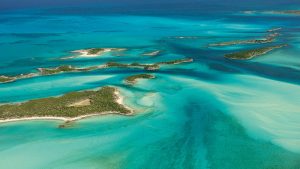 At Grand Isle Resort, this manicured, gated community is busier than any time in its history, posting nearly 100% occupancy for the months of February, March and April. Golf carts buzz between the luxury villas and Emerald Bay Beach. Tour operators are kept busy by the constant flow of guests heading out on boats to visit the world famous swimming pigs, among the many other attractions out in the cays.
This energy at the resort is only accentuated by the ongoing construction of the '23 North', the community's much anticipated new Beach Club. Expected to open this fall, the club will feature a new second dining venue, infinity pool and special events venue, all spilling out onto a pristine, one-mile-long horseshoe beach.
"The future is right for Exuma and Grand Isle," said Peter Nicholson, President of GIV Bahamas Inc. "The Minister's statistics only confirm what we already know – Exuma is growing. I was fortunate to spend March Break there with my family. The resort looks great and Exuma has a buzz about it."
Beyond Grand Isle's gates, you can see construction underway for various second homes. The historic Peace & Plenty, which recently came under new ownership, has opened its doors after an extensive renovation. And of course, the much-anticipated Atabey, a high-end island retreat slated to break ground this year, continues to rouse excitement and curiosity.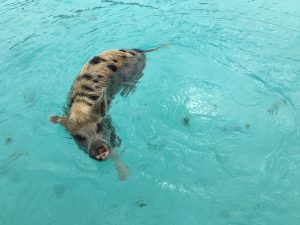 According to the Minister's report, Exuma outpaced arrival growth compared to most other destinations in The Bahamas. Abaco arrivals rose 10.4 percent. Eleuthera increased by 24.4 percent.
D'Aguilar said the general increase in arrivals for the Family Islands was also due, in part, to a high repeat visitor rate of 66 percent, and further anchored by a strong and loyal second home market.
You can read the Minister's full report in the Nassau Guardian: https://thenassauguardian.com/2018/03/15/family-islands-on-path-to-set-visitor-arrivals-record/