Great Exuma Classic reaches millions worldwide
 GIV Bahamas Inc serves as official sponsor of tournament, as guests enjoy a week of golf, parties and relaxation at Grand Isle Resort

For the second straight year, stunning Emerald Bay played host to a major tournament on the Professional Golf Association (PGA) circuit, attracting players, spectators and millions of others watching on television screens around the world.
The Great Exuma Classic has become an annual tradition for Exuma. It is now the first tournament of the year of the Web.com Tour, as golfers young and old battle it out to earn a PGA Tour Card and join the big dance. The Emerald Reef Golf Course, designed by Greg Norman, proved once again to be a world-class test for these pros
In the end, it was Sungjae Im, from South Korea, who posted a final round 65 to secure the title.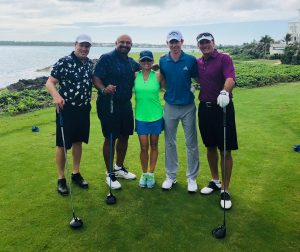 The win should go a long way for Im to secure his spot on the PGA Tour. Last year, Great Exuma Classic winner Kyle  Thompson joined the tour shortly after his win in Exuma.
"It was truly another wonderful tournament here in Exuma," said Catherine Clifton, tournament director for the Great Exuma Classic. "The area is so beautiful and the people so welcoming. I especially want to thank our sponsors, including GIV Bahamas Inc. and Grand Isle Resort, for their ongoing support. We look forward to coming back next year."
Other sponsors of the tournament included Sandals Emerald Bay, The Islands of The Bahamas, Delta, the Web.com Tour, The Golf Channel, Professional Sports Partners and Cross Sports & Entertainment Group. The action was televised on NBC's The Golf  Channel throughout the week, reaching many countries and millions of viewers worldwide.
As an official sponsor of the tournament, GIV Bahamas Inc. fielded two Pro Am Teams on Jan 12, providing the golfers and their friends with exclusive access and amenities to the weeklong festivities.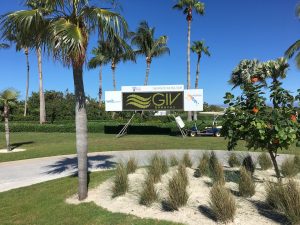 Indeed, in addition to the fantastic golf, Grand Isle Resort and Sandals Emerald Bay became hives of social activity for the week.
With Grand Isle in the centre of the golf course, guests were able to follow along and watch the action, while many of the special guests playing in the Pro Am Tournament attended evening parties with food, drinks and entertainment.
Norman himself could be seen socializing at cocktail parties by night and providing personalized instruction to golfers by day.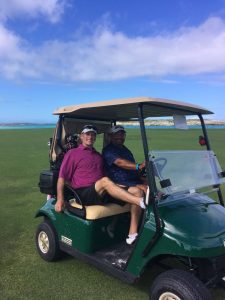 In the end, it is one of GIV Bahamas' Pro Am teams, led by legendary NHL goalie Grant Fuhr, that won the Pro Am Tournament. He was joined by golfers Russell Elkan, Howard Chatoff and Loretta Chatoff.
"It is always special when my wife and I get a chance to stay at Grand Isle. Definitely, being here for the golf tournament made it even more special," said Fuhr, who won five Stanley Cups in his storied career. "The course is amazing, a true test of golf, and as always we love the island of Exuma and the accommodations at Grand Isle."
Peter Nicholson, the President of GIV Bahamas Inc., hosted a cocktail party in the four-bedroom penthouse at Grand Isle on the final night of the  tournament for players, guests and staff, to cap off an incredible week of activity at the resort.
"Exuma and Grand Isle are always beautiful, but events like this are great because it brings everyone together," he said. "I want to thank the organizers of the tournament and everyone who helped bring it together. I can't wait to do it all again next year."