Pilots in Exuma: A match made in 'Heaven'
GIV Bahamas Inc. announces partnership with Heaven's Landing, a fly-in community in Georgia. Pilots and plane enthusiasts are invited to the first fly-out, November 10-13.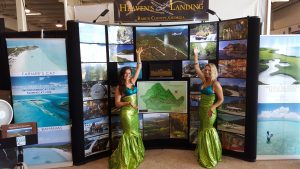 Maybe it is the swirling turquoise and aquamarine waters, a mosaic of every shade of blue imaginable. Or perhaps it is the 365 islands, stretching over 200km (or 130 miles), with the occasional airstrip for touching down.
Others might say it is the adventurous, rugged terrain of the Exuma Cays, sparsely populated and unspoiled in the modern age. Whatever the reason, pilots love Exuma.
It is this undeniable fact that spurred GIV Bahamas Inc. to embark on an ambitious private aviation program with one of the premier fly-in communities in the world.
Heaven's Landing, nestled in the lush green mountains of Georgia, features a perfectly paved 5,200-foot airstrip. This central "driveway" splinters off into individual hangers for the community's residents. And from there, you are just a stone's throw from custom mountain side homes.
With a spectacular clubhouse, plentiful amenities, close proximity to town and incredible natural beauty, you might say Heaven's Landing has it all. And it does, except for one thing – the beach.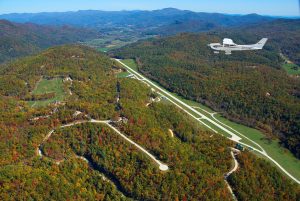 Enter GIV Bahamas Inc.
In collaboration with Heaven's Landing, GIV Bahamas Inc. now offers pilots an official "outpost" in Exuma's 365 island chain, including exclusive access to Grand Isle Resort and its offerings on Little & Big Farmer's Cay. The first of its kind in the industry, this alliance is the beginning of a new program geared specifically to individuals that fly their own plane.
"Our Heavens Landing owners have been extremely excited about the new partnership with Grand Isle Resort and are looking forward to taking advantage of the benefits being offered to them," said Mike Ciochetti, owner and developer at Heaven's Landing. "I've been selling property at Heaven's Landing for over 15 years. Over that time I have had hundreds of clients tell me that they have dreamed about having one home in the mountains and another in the islands on the beach. This relationship now makes that dream extremely tangible".
From Sun N Fun in Lakeland, Florida, to OshKosh in Wisconsin, to COPA in Duluth, Minnesota, this journey into private aviation has put the GIV Bahamas Inc. team face to face with hundreds, if not thousands of pilots from all around the world.
By combining the beauty of Georgia's green mountains, with the surreal blue of Exuma's ocean, pilots were stopped in their tracks.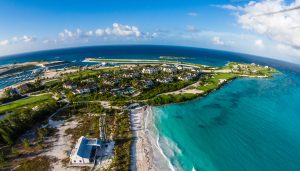 "If there is one thing that pilots love more than their planes, it is the prospect of going somewhere new and exciting, where their unique wants and needs can be met," said Jeff Todd, Director of Communications at GIV Bahamas Inc. "Our objective is therefore simple: what can we do to make Exuma the best place in the Caribbean for flying? Heaven's Landing is an incredible partner in this endeavor as we seek to revolutionize the pilot experience. "
While owners at Heaven's Landing receive special year-round benefits, GIV Bahamas Inc. also introduced a package for pilots visiting Grand Isle Resort. Valid until November 15, pilots, using the promo code GISUNFUN, pilots can receive a 25% discount off their villa of choice, along with a $100 credit at either the restaurant or spa.
After booking, pilots can take advantage of GIV Bahamas' special relationship with Odyssey Aviation, the private terminal located at George Town International Airport. Aviators receive a $0.40 cent discount per gallon on fuel, free tie-downs and a welcome gift upon arrival.
The end of the promotion is timed perfectly for the first ever Heaven's Landing Fly-Out to Grand Isle Resort from Nov 10-13. With pilots expected from all over the United States, this event features several days of special activities.
You don't have to fly your own plane to take in this amazing experience – all are welcome!
To join this unique fly-out experience, or learn more about GIV Bahamas Inc.'s ongoing private aviation program, write us or call 613 596 3277, Ex: 532.