Angry Birds get piggy with it
Exuma's swimming pigs have taken flight.
One of the most popular mobile gaming franchises of all time partnered with GIV Bahamas Inc. this month to deliver a social media campaign, reaching millions of people worldwide.
Angry Birds, with some three billion downloads across all of its gaming platforms, first fell in love with Exuma's famous swimming pigs back in July of this year, when it released a trailer for its sequel, Angry Birds 2: https://www.youtube.com/watch?v=175Bq3MSrWo&feature=youtu.be
Since then, the video has generated nearly 3.5 million views.
GIV Bahamas Inc., which operates the popular website 'When Pigs Swim' (http://whenpigsswimexuma.com/), has joined forces with the franchise by offering a luxurious and adventurous Bahamian holiday on their 6th "Bird Day", the anniversary of when the game was released.
In collaboration with the Bahamas Ministry of Tourism, Grand Isle Resort & Spa and Exuma Water Sports, contestants had the chance to win a one-week stay in a luxury villa, fights for two to Exuma, and of course, an amazing boat excursion up the Exuma cays to see the famous swimming pigs.
Contestants entered through Angry Bird's Facebook page: https://www.facebook.com/angrybirds/?fref=ts
"We all know how a growing number of people get a lot of their information these days: it's online," said Peter Nicholson, the President of GIV Bahamas Inc. "Ever since I first came to Exuma 11 years ago, I have been amazed at the popularity of the pigs. They are only getting bigger. People just love them. I hope this contest helps bring them to the world even more so more people discover Exuma."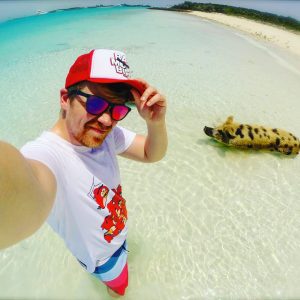 The world's love for Angry Birds is undeniable as well. With nearly 26 million "likes" on its Facebook page alone, Angry Birds casts a wide virtual net through its various platforms. The popular franchise even has its first full-length feature film coming out next year in collaboration with Sony Pictures. For the contest, Exuma and the swimming pigs were broadcast across all of its social media channels, as well as alerts within the games themselves.
"When filming the cinematic trailer for Angry Birds 2 in the Exuma Cays, we were blown away by the gorgeous scenery, clear waters, and (of course) those lovable swimming pigs," said Edvard Groundstroem, Marketing Director at Rovio Entertainment Ltd., the company that produces Angry Birds out of Finland.
"We were excited to get the chance to team up with When Pigs Swim for our 6th BirdDay #BackToPiggyBeach contest so we could share the whole experience with our fans."
While Exuma's unusual attraction has been a popular attraction for years, the pigs' appeal has skyrocketed in recent months and contributed significantly to the economy in Exuma, as the Bahamas was declared the "Official Home of the Swimming Pigs": http://www.bahamas.com/swimmingpigs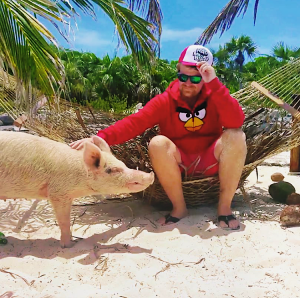 "We like to call Exuma's swimming pigs the hardest working employees in Bahamian tourism," said Tyrone Munroe, Partner and Director of Operations at GIV Bahamas Inc.
Thousands of tourists, celebrities and even supermodels continue to visit Exuma simply to see the swimming swine, following appearances on television, late-night talk shows and on countless social media accounts around the world.
So what's next for the swimming pigs?
Well, after making some new feathered friends, maybe pigs will fly after all.