Exuma cycling kicks into gear
What began as a simple desire to give back to a community has grown into a Canadian tradition on the island of Exuma.
The Great Exuma Charity Bike Ride (rideforexuma.com), an ultra exclusive charity ride to benefit the island's new hospital, is on a roll. After inviting a few Canadian ambassadors to this magical island last year, the event on November 7th is now taking shape, seeking to raise $50,000 in only its first official year.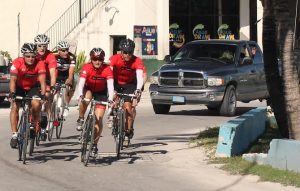 And now, with the recent creation of the Exuma Foundation of Canada, donations will be tax deductible. There is also the original Exuma Foundation so Americans receive a tax receipt.
The idea of a charity bike ride came naturally to founders Howard Chang, the President of Top Drawer Creative Inc., and Ash Singh, the President of Equity Builders.
Both of these successful, Toronto-based entrepreneurs own homes on Exuma, a lush and pristine tropical paradise of 365 islands, with a population of only 7,000 people. Both of them are passionate about charity, community action and healthy living. And both are members of Les Domestiques, a riding and networking club comprised of some of Canada's corporate elite, that has raised millions for Canadian charities.
"I fell in love with Exuma years ago, enough to spend time there with my family and put down roots," said Chang.
"Exuma is an absolute tropical gem, and Ash and I felt this tradition is a wonderful way to introduce more Canadians to this paradise while also helping the community."
There are few causes more meaningful than Exuma's new mini-hospital. The large facility, meant to service the entire central and southern Bahamas, is set to revolutionize healthcare for both Bahamians and tourists alike. At present, there are only clinics on the island staffed by nurses, with doctors visiting on a weekly basis.
Once open, the 32,000-square-foot facility ail feature an operating theatre, dental suite and laboratory.  In a recent town hall meeting in Exuma, government officials announced that it should be open by the end of this year, with plans for three full-time physicians, a resident dentist and a senior pharmacist. Emergency medical technicians are also expected soon
http://www.thebahamasweekly.com/publish/bis-news-updates/Government_Ministers_attend_Annual_Town_Hall_Meeting_in_Exuma43900.shtml

The money raised from the bike ride will go into a hospital fund aimed at supporting the future needs the facility, mostly notably the targeted purchase of essential equipment and supplies.
But apart from charitable giving, the event also promises to be a whole lot of fun.
Island BBQs, boat trips up the amazing Exuma cays and luxurious accommodations at Grand Isle Resort & Spa, the official hotel partner, will also serve up some much needed R&R. The ride itself includes a stunning 70km route along the coast of Great Exuma, with a 40km community ride where friends and family can join the fun. Snacks and drinks will be provided enroute at the rest stops, all rides include a police escort and maintenance support is available thanks to Velofix, a Canadian based company.
Sponsors for the Great Exuma Charity Bike Ride include Top Drawer Creative Inc., GIV Bahamas Inc., Grand Isle Resort & Spa and the Bahamas Ministry of Tourism.
For more information about the race, the donations and packages available, the weekend program and travel and accommodations, visit the event's new website rideforexuma.com