Exuma Kitchen Takeover takes off
Exuma has never seen a culinary experience like this.
For two amazing nights, foodies came out in droves for the first ever Exuma Kitchen Takeover, featuring Michelin Star Chef Alyn Williams working his magic at two top restaurants on the island: Catch A Fire Bar & Grill, and The Palapa Grill at Grand Isle Resort & Spa.
With sweet aromas wafting from the kitchens, combined with sweeping panoramic views of the ocean and crashing waves, guests could barely sit still as the first Michelin Star Chef to ever visit Exuma conjured his culinary creations. And in the end, after the food was devoured, the wine drunk and the conversation spent, every guest was left wanting more.
According to Chef Alyn, they just might get their wish.
"I greatly enjoyed this experience on Exuma, and I'm already looking forward to next year," said Alyn, a protege of world-famous chef Gordon Ramsay.
"Next year, I think we can do more chefs, more restaurants and really continue to inspire and develop the culinary scene on this amazing island. I just love coming here and being part of it all."
  Chef Alyn Williams at work in the Catch a Fire Kitchen.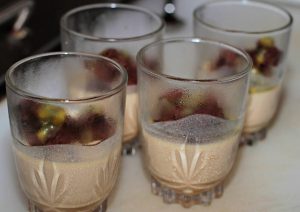 Roasted white chocolate pannacotta/coffee cake/passion fruit.
Chef Alyn is indeed no stranger to Exuma. In fact, the acclaimed chef from the United Kingdom has been visiting the island and Grand Isle for several years, although this is the first time he has formally stepped into the kitchens of local restaurants.
It all started on August 20, at Catch A Fire Bar & Grill, where Chef Alyn, with the help of several Bahamian chefs, put together a sampler menu that took an inventive spin on traditional Bahamian cuisine. The seven course feast featured a pea & mint cupcake, smoked beef tenderlion/dashi & crispy ginger, lobster taco/green gazpacho, grilled grouper/conch escabeche, barbecued pork belly/corn dogs, grilled law & stuffed skins, back to front lime cheesecake and roasted white chocolate pannacotta/coffee cake/passion fruit.
  Barbecued pork belly/corn dogs, grilled law & stuffed skins.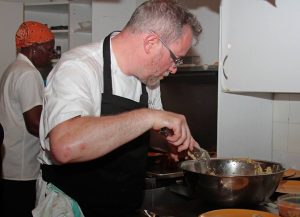 Chef Alyn Williams preparing on of the many dishes that delighted guests.
Three days later, after some much needed relaxation, Chef Alyn did it all again at the luxurious Grand Isle Resort & spa, taking over The Palapa Grill, reputed to be the best restaurant on the island, with Chef Hermis Rolle.
This culinary adventure took on a different spin, whereby a Chef Alyn inspired menu was placed alongside The Palapa Grill's usual offering. The acclaimed chef offered an extensive array of appetizers, soups and salads, entrees and desserts, all a la carte, including such highlights as lobster and salmon ravioli, sticky beef short ribs and truffle & parmesan arancini.
Peter Nicholson, the President of GIV Bahamas Inc., served as the architect of the first ever Exuma Kitchen Takeover.
Nicholson, who has known Chef Alyn for years, said bringing more food choices to Exuma and elevating the cuisine are both essential to the island's future.
"People travel for more than just the beaches these days. Many disconcerting travelers don't want to just relax well – they want to eat well. It has never been more important to the tourist experience," he explained. "I want to thank Chef Alyn for sharing his time and gift with the island and we look forward to taking it up a notch next year."
Born and bred in London, England, Chef Alyn Williams has worked with some of the biggest names in the culinary world. In 2011, he opened his celebrated restaurant 'Alyn Williams at The Westbury" in November 2011, and in 2012, he earned the coveted "National Chef of the Year' for the UK and his first Michelin Star. You can learn more about Chef Alyn and his London restaurant here: http://www.alynwilliams.com/