New Owners praise Grand Isle
I was driving in my pickup truck to George Town, the main settlement of Exuma, when I came around a turn and there was a policeman signaling for me to stop.
Busted! Or so I thought.
I pulled over and started to back up. In my rear view mirror, I noticed that the policeman was running towards me.
Yikes. This doesn't look good, I thought to myself.
"Thanks for stopping," the officer said, as he ran up to my door, huffing and puffing. "The lumber store closed and left my lumber by the side of the road. Would you mind if I throw it in the back of your truck and you can follow me to my place?"
"I'd be happy to," I said, visibly relieved. "I thought I was speeding".
He laughed, and together we delivered the lumber to his house. You've got to love this place. One of the great things about Exuma is simply the obvious: it is a friendly island. The people here are so relaxed. It takes you back to a simpler time, albeit a very busy, simpler time for me!
Grand Isle Resort & Spa is filled to capacity in July, even though it is a historically slow season for resorts in the tropics. I've been waiting for it to slow down for months now! It now seems that "slow season" is a thing of the past.
Staff and guests tell me that they've never seen anything like it.  The entire island is buzzing.  Dona Bertarelli, a Swiss billionaire, has announced the building of an ultra-exclusive eco resort at Children's Bay Cay, not far from Grand Isle. The government said recently that there's an airport redevelopment planned for 2016, and Delta will start flying DAILY from Atlanta beginning in December.
It's all coming together in such a big way!
Meanwhile, interesting people continue to trickle in. Byron Scott, the head coach of the Los Angeles Lakers, was seen at the bar at Palapa Grill a couple nights ago.
  Byron Scott, head coach of the LA Lakers.
Also on hand was a number of happy owners enjoying their new purchases. Amy and James from Phoenix, Arizona, just closed on a beautiful two-bedroom villa, with a bay view.
"We came in April, and it was our first trip to the Bahamas. It's a long way from Phoenix, but it was love at first sight, and now Grand Isle feels like home," she said.
But it doesn't stop there. Here are a few other testimonials for new owners at Grand Isle:
Julie Huffman and John Duckhardt : St. Louis, Missouri
Julie: "Grand Isle is a wonderful home base for all Exuma has to offer – every day offers a new adventure."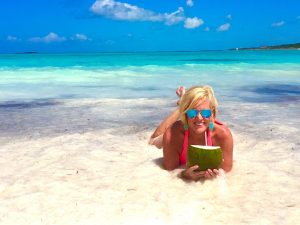 Andrea and Andre : Brazil
Andrea: "It is the best place. So relaxing, we plan to own here forever."
Andre: "We did a tour of all of the island looking for a second home. As soon as we saw Grand Isle, we knew this was it!"
Jeff and Lauren King: Ohio
Lauren: "Such a relaxing and unpretentious atmosphere. The units are castle quality and the home owners association is smart and engaged.:
Jeff: "The staff is truly wonderful and gracious."
New higher prices will be introduced in October because of higher occupancy, so the new owners are reveling in their recent purchases thrilled with the turnaround at the hotel. When you own at Grand Isle, you own a piece of the hotel – dividends to home owners! Enjoy all that the resort and Exuma has to offer, and then watch the rental revenue and dividends roll in.
But it's not too late, I have a couple of villas at the old prices until we roll out the new in October.
Grand Isle – a little piece of heaven…
See you in paradise.
By Sharon Dunn