Grant Fuhr goes between pipes for GIV Bahamas Inc.
One of the greatest goaltenders of all time has become the latest addition to GIV Bahamas Inc.'s Brand Ambassador Program after falling in love with Emerald Bay during a recent trip to Exuma with his wife.
Grant Fuhr, best known for his performance on the ice when he won five Stanley Cups with the Edmonton Oilers in the 1980s, will now hit the beach and enjoy several weeks at Grand Isle Resort & Spa.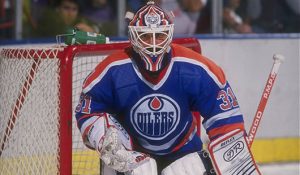 An avid golfer, the Hall of Famer spends a lot of his time participating in charity tournaments across North America. He even plays in the American Century Championship, the annual competition to determine the best golfers among celebrities in sports and entertainment.
During his recent trip to Grand Isle, this connoisseur of the game was so impressed with the Emerald Reef Golf Course, surrounding Grand Isle and Sandals, that he wants to share it with his friends.
"It is a real test," said Fuhr, who played the course and stayed at Grand Isle during his honeymoon.
"The back nine along the ocean is particularly tough, but it's beautiful. Beyond the golf, I just look forward to spending more time at Grand Isle and in Exuma and doing my part to get the word out on this beautiful island."
As Brand Ambassador, Fuhr plans to share Grand Isle and Exuma with his extensive and influential network, while also promoting the area on his social media network. He joins Arlene Dickinson and Allan Hawco as the company's third ambassador.
He will attend at least one annual event per year in Exuma. He also plans on playing his fair share of golf.
"Back in 2003, The Great One, Wayne Gretzky, said that Grant is the greatest goaltender of all time." said Peter Nicholson, the President of GIV Bahamas Inc. "I couldn't be more pleased to work with him and his lovely wife, Lisa, as we bring these incredible 365 islands to the world."
Opening up about the highs and lows of his career, Fuhr recent laid his life bare in the recent autobiography "Grant Fuhr: The Story of a Hockey Legend". He tells the story of his humble upbringing in Spruce Grove, Alberta, his meteoric rise in the NHL to the top of the goaltender world, and even touches on his substance abuse and racial tensions when he started playing in the United States.
You can pick up a copy here: http://www.amazon.ca/Grant-Fuhr-Story-Hockey-Legend/dp/0307362817