Nicholson attends Branson's retreat on Necker Island
Once a year, some of the greatest thinkers, innovators, entrepreneurs and philanthropists in the world assemble in a tropical paradise.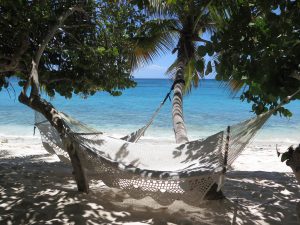 Just north of Virgin Gorda, Necker Island is a pristine, 74-acre island filled with lush jungle teeming wildlife. Richard Branson, eccentric billionaire and Chairman of The Virgin Group, has transformed this sanctuary into an ultra-exclusive resort experience, attracting the rich and famous with his private beaches,  ample amenities and top-shelf dining.
But last month, Necker was closed even to the rich and famous.
It was open only to those attending the latest Virgin Unite Leadership Gathering, conceived by Branson himself, which seeks to bring business innovators together for five days for a speaker's series and lively discussion.
Peter Nicholson, the President of WCPD Inc. and GIV Bahamas Inc., was fortunate enough to attend this year's gathering.
"It is a rare opportunity to spend this much time with such inspiring people," he said. "Richard [Branson] has definitely built something special here, and I learned a lot about my own businesses and how we can continue to have a positive impact on the community and world around us."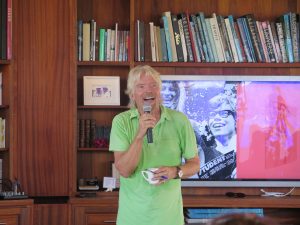 Sir Richard Branson.
Under the theme "Be Good. Do Good for Life",  the event challenges its participants to be successful in all facets of life, by exploring how we can lead a life of purpose where we can do good and also do well. The experience featured a mix of scheduled meetings and speakers with free time, allowing all the attendees to interact, network and enjoy what Necker Island also has to offer.
Ever the adventurer, Nicholson won the tongue-in-cheek "Columbus Award" for his frequent travels to other nearby islands.
Confidentiality and privacy are paramount for the Virgin Unite Leadership Gathering, making the speakers series and personal meetings all the more meaningful. Many of the participants were the founders of household products, businesses and service we all use in our daily lives.
For Nicholson's part, he sought inspiration and ideas for his philanthropy business, and how he can elevate his clients giving to make the maximum impact on their communities.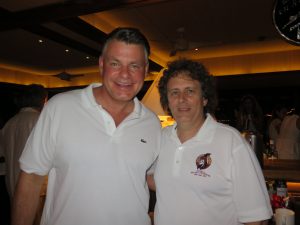 Peter Nicholson (L) poses for a picture with one of the other participants of the 'Be Good. Do Good for Life' Leadership Gathering.
He also sought guidance for the island of Exuma, where GIV Bahamas Inc remains a leader in marketing, development and community leadership. In addition to GIV Bahamas Inc's ongoing work with the community, the company is also seeking a CRA number for the Exuma Foundation, the largest charitable organization the island, so Canadians making a donation can receive a tax receipt. Currently, only Americans can receive a tax receipt.
Virgin Unite, with its focus on sustainable change through economic development towards tough social and environmental issues, was an ideal resource and sounding board. Since its launch in 2004, the organization, pooling all volunteer efforts across The Virgin Group, has grown to thousands of other influential members.
All overhead for the group is covered by Branson, so 100% of all donations go towards its charitable initiatives.
"It was a real privilege to witness this incredible foundation at work for a few days. I look forward to the possibility of attending next year," Nicholson said.