My Grand Isle Marathon
I'm thinking of changing the name of this column to My Garden of Eden, because that's what this jewel has become to me.
I haven't left this precious island for eight months straight – not to Miami, not even to Nassau. It surprises visitors and locals, and according to Peter Nicholson, the largest owner at Grand Isle Resort & Spa, I've set somewhat of a record.
When people ask me why I haven't left, even for a few days, my response is: why? Seriously, when you're in paradise (there's that word again), why would you leave?
It's wedding season and beautiful nuptials are taking place right in front of Grand Isle on Emerald Bay Beach. Pictured here are our latest newlyweds, who immediately after the wedding came up to my office and bought a villa … magic is in the air, for sure.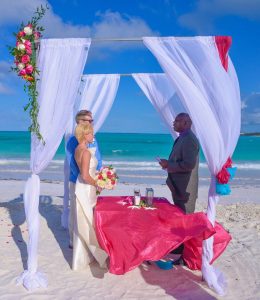 Grand Isle has been under new management for the last several months, and their vision and implementation has proven to be impressive. 2015 occupancy is significantly higher than in previous years, and the resort is profitable.
All of this will of course start to affect villa prices, so if you've been thinking of buying, you should do it before prices rise.
Still have some good deals remaining – a one-bedroom villa (ocean view) at $450K (originally sold for $900K), a two-bedroom (garden view) at $650K and a three-bedroom villa (garden view) at $699K!
Also, I have a spectacular two-bedroom penthouse at $1.79M – only one left!
All villas are fully equipped and complete with furnishings: amazing furniture, linens, kitchen utensils – the works. And of course each villa comes with a golf cart and golf cart garage.
I said so long and not goodbye to Manhattan artist Jason Borbay and his beautiful family the other day. He was Grand Isle's Artist-in-Residence for the last few months, painting all of the speculator scenes in Exuma. Included here is a photo of my office wall, made resplendent with his colourful pop art oils. I'm looking forward to having him and other artists coming back soon … yes, everyone does come back.
So back to my original point: a glorious environment, castle quality villas, marvellous food, and inspired companionship. With what I have here, why would I leave? My own Garden of Eden … now all I have to do is stay away from that darn apple!
By Sharon Dunn