USA Today selects Grand Isle as three resort in all of the Caribbean
Travel journalist says nominating Grand Isle was an 'easy decision' thanks to superior location, amenities, and friendliness of the staff
Grand Isle Resort earned yet another feather in its cap this month when USA Today announced that it had been
voted the third best resort in the entire Caribbean.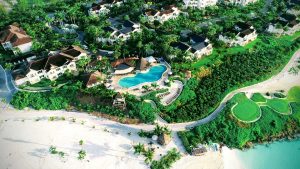 But first, to be even voted as a top resort by your fans, you have to be selected as one of 20 nominees. Melanie Reffes, a seasoned travel journalist specializing in the Caribbean, and a judge on the USA Today nominating committee, said selecting Grand Isle was an "easy decision".
"As a journalist covering the Caribbean longer than some of the hotels have been open, deciding on nominees in all the best categories was a challenge," Reffes said, who has served as a freelance travel journalist for USA Today for more than a decade.
"Grand Isle was an easy decision as it meets our high standards and is so treasured by those that have stayed
there."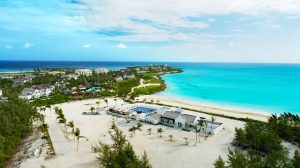 Thousands of past guests came out in droves to vote for a resort that offers a luxurious experience in one of the most untamed and stunning landscapes in the world. Criteria for a nomination revolved around several key factors, she explained, including amenities, location and the friendliness of the staff. She said Grand Isle passed these benchmarks with flying colors.
Perhaps most significantly, Grand Isle was the only Bahamian resort to make the Top 10 this year. Overall, the USA Top 10 included a broad representation of the Caribbean, with resorts in Turks & Caicos, Aruba,
Dominican Republic, St. Lucia, St Martin, Grenada, Anguilla, and Antigua. But Grand Isle represented the creme
de la creme for The Bahamas. "Of course, I personally believe Grand Isle deserved the top spot," said Peter Nicholson, president of GIV Bahamas Inc., and the largest owner at Grand Isle. "Nevertheless, we are just honoured to
be represented on this prestigious list.
Travelers these days have so much choice. They can be more discerning than ever before. Acknowledgment like this helps get the word out on what a special resort we have in the Exumas. Thank you to USA Today for the selection, and thank you to our guests past, present and future for voting."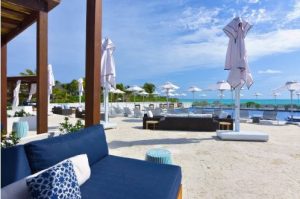 And yet, there is every reason to believe that the best is yet to come. Opening on March 1st, 23 North, Grand Isle's new $4 million beach club, will greatly boost amenities at the resort. Situated on Emerald Bay Beach, the 30,000 square-foot facility features a second infinity pool, an additional restaurant, and other offerings.
Meanwhile, Grand Isle continues to offer innovative new programs and attractions outside of its gates, such as its new Shark Tagging Experience.
To see USA Today's full list of Top 10 nominated across all categories, click here.