GIV Bahamas supports 'dream expedition' for shark scientists
 Beneath the Waves and partner Oceanic Global carry out first ever shark tagging mission in Southern Exumas to help preserve and better understand the ocean ecosystem

There are few animals on the planet more misunderstood than the shark.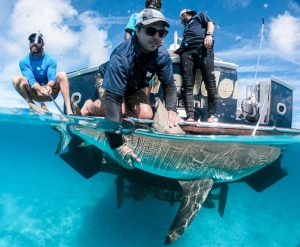 From an early age, it is common to see these animals cast as menacing meat-eaters, and a threat to unsuspecting humans. But for Austin Gallagher, a biologist and conservationist, with a particular focus on sharks, he sees these animals not as a danger, but rather as a means to better understand our fragile ocean ecosystem. 
"Sharks are ecologically and economically important to our oceans, and to The Bahamas," said Gallagher, who has published more than 60 peer-reviewed papers in leading scientific journals.
He is also the founder of Beneath the Waves, a non-profit focused on shark conservation, and participated in a Ted Talk in 2016.
"They keep marine ecosystems healthy and tourism flourishing. By tagging them with high-tech electronic tags and monitoring their health, we are shedding new light into the movements and behavior of these misunderstood yet threatened animals, which will provide information for the long-term survivability of the species in this country and a model for other countries to follow."
This effort took a big step forward this month, when  Gallagher and his team were invited by GIV Bahamas Inc to Exuma and Grand Isle Resort to continue their research
Over the course of several days, researchers tagged and released 14 sharks (12 Caribbean Reef Sharks and two tiger sharks) and installed four acoustic receivers. 
This technology will monitor the tagged sharks for the next several years. Gallagher plans to return to Exuma in spring 2019 to download the receivers, install new ones and add more sharks to the project.
With more than a decade of dedicated shark research in six different countries, he called the recent trip to Exuma a true "dream expedition". 
"Securing logistics, including accommodations and boat time, are often the most complex and costly parts of planning and executing a research expedition," he explained, noting that his non-profit relies entirely on private donations to fund research.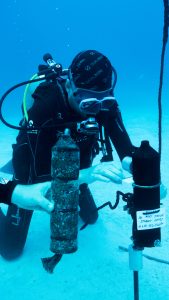 "GIV Bahamas Inc. and Grand Isle Resort provided solutions to these challenges during our search shark expedition. Even more incredible were our findings and interactions with the sharks: it is proof that Exuma is a healthy marine ecosystem. Many beautiful sharks keep the oceans clean and balanced. These incredible animals keep the waters wild, beautiful and abundant."
This expedition, he added, was the first of its kind in the southern Exumas.
The important work of Beneath the Waves is supported by Oceanic Global, an international advocate for the preservation of the seas. The organization seeks to broaden the audience for these issues by connecting with other advocates and influencers in a variety of industries such as the arts, music, fashion, hospitality, technology and more.
James Sternlicht, a board member and director of strategic development, said that in order to protect our world, we must first broaden our understanding.
"Sharks are majestic, mysterious and much maligned – and they are vital to the health of our oceans," Sternlicht said.
"The research done here is the first of its kind in Great Exuma. And the data we gather over the coming months will allow us to further our understanding of these incredible creatures, so we can better protect them."
Gallagher explained that The Bahamas project is ongoing over the next three to four years, with the overarching goal is creating a true shark sanctuary and ensuring the preservation of the ecosystem as a whole. Today, in addition to global warming and pollution, sharks are constantly under threat due to commercial fishing.
It is not every day that tourists view sharks as playing a role in the beauty of Exuma's famously blue and pristine waters and coral reefs. Sharks are also a popular attraction and sight for tourists engaging in snorkeling, scuba diving and even the famous nurse sharks near Staniel Cay and Compass Cay, which guests of Grand Isle Resort often visit on excursions. 
"Every so often, I think it is important to take a step back and remember the environment we operate in," said Peter Nicholson, the President of GIV Bahamas Inc. "I applaud the work of scientists like Dr. Gallagher. Their insights and vision will help ensure Exuma's amazing natural environment is sustainable in the future."