Gov. throws weight behind Pompey
D'Aguilar says third-annual event, from October 6-9, 'ticks all the boxes' as it expands into National Heroes Day Weekend celebration
The Bahamian government threw its weight behind the third annual Run for Pompey earlier this month during an official press conference in the nation's capital.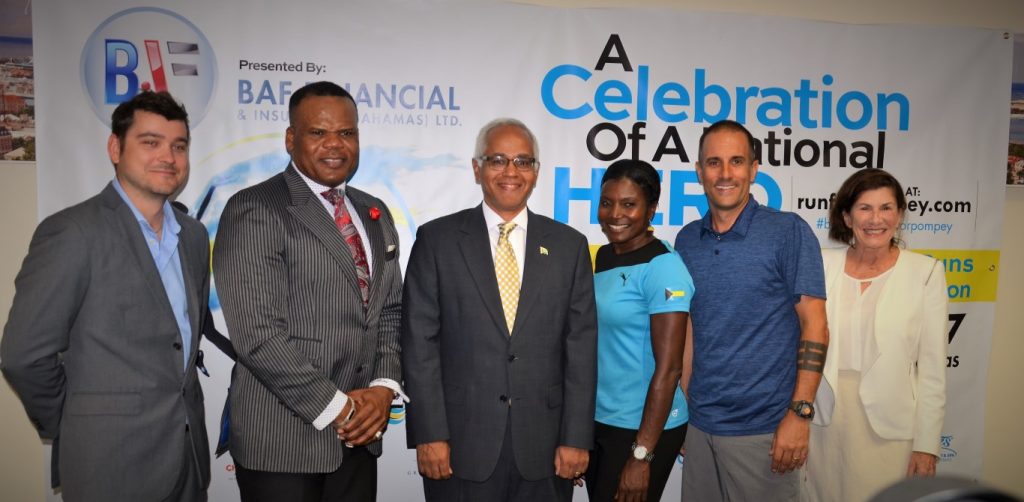 With an office in the Ministry of Tourism buzzing with reporters, the new Minister of Tourism and Aviation, Dionisio D'Aguilar, declared Exuma "the most beautiful place on the world" and told the press core that Run for Pompey "ticks all the boxes" of a worthwhile event in The Bahamas. The annual race, held on Great Exuma from October 6 to October 9, is not only an authentic celebration of local history and culture, but an important driver of sports tourism in the area.
The event also raises money for an annual scholarship and all students run for free.
"The images of running along the waterfront with the clear blue-green-turquoise  waters of Exuma in the background are priceless," D'Agulilar said.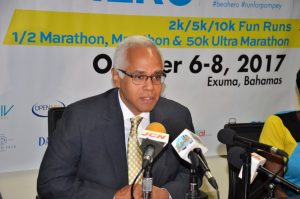 "That is the kind of publicity that happens organically and no amount of money that you throw at it can equal its impact and the impressions it makes. It feels real and because it does, it feels inviting."
He praised Run for Pompey in its promotion of the Family Islands, the economic stimulus it creates as well as its ode to arguably the most important hero in Bahamian history.
In 1830, Pompey, a 32-year-old slave, defied a transfer order on Exuma that would have separated 77 men, women and children from their families. While his rebellion was eventually squashed, it is widely seen as a key moment in the Bahamian fight for freedom.
To commemorate his memory, Run for Pompey features races for all ages, skill levels and abilities, including the 2K "George Town Dash", 5K, 10K, half marathon, full marathon and the country's only 50K ultra marathon. All races are professionally timed. Past events have attracted hundreds of runners from various countries, including Canada, the United States, the UK and The Bahamas.
Perhaps biggest development this year will be the involvement of the National Family Island Regatta Committee. Regatta, the largest event
in Exuma, which takes place every April, will take over all entertainment in the park after the race. Runners and festival-goers can expect a junior regatta in Elizabeth Harbour, with music, food and a bar.
For the third year in a row, legendary "Golden Girl" Pauline Davis Thompson will serve as Run for Pompey's patron, draping medals around each and every neck at the finish line.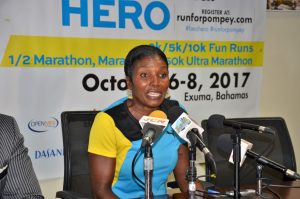 She also provides a special keynote address at Grand Isle Resort & Spa's pasta night for runners the night before the race. Davis-Thompson was also in attendance at this month's press conference to offer remarks, along with Dashwell Flowers from BAF Financial and event co-founder Kevin Taylor.
The event is supported by three-time title sponsor BAF Financial & Insurance (Bahamas) Limited.
"This event presents a unique blend of history, sports and tourism," said the Hon. I Chester Cooper, President of BAF and MP for Exuma & Ragged Island. "It's also great for the economy of Exuma. I commend the organizers and sponsors for creating this exciting event for Exuma's calendar. Hopefully the participants and their guests will return again and again to enjoy all that Exuma and its Cays has to offer."
Run for Pompey is also thrilled to announce a new sponsor of the event. Aliv, the emerging telecommunications company, will become a valued supporter of the weekend.
MRI Nassau, GIV Bahamas Inc., The Bahamas Ministry of Tourism, Grand Isle Resort, Sands Beer, Caribbean and Bottling Company, Ty's Sunset Bar & Grill, Catch a Fire, Chat N Chill, BahamasLocal.com, SuerClubs Breezes, The Swimming Pig Store and Diane Phillips & Associates will all return as key sponsors of Run for Pompey.
"From the very beginning BAF, MRI Nassau, GIV Bahamas and all of our sponsors have been incredible in bringing this event to fruition," said Kevin Taylor, co-founder and Race Director.
"We also want to thank our volunteers and Pauline Davis Thompson for her continued support. Run for Pompey is deeply rooted in both the community and the country's youth. We couldn't pull it off each year without everyone's generous support."
In keeping with the event's strong sense of community, Run for Pompey recently awarded its second Pompey Scholarship to Demi Rolle of L. N. Coakley High School in Exuma. The annual scholarship, paid for through proceeds from the race, supports a local student each year in his or her ambition to attend college or university.
Jeff Todd, co-founder of the race and Director of Communications at GIV Bahamas Inc., believes it is the event's authenticity that has led to its success.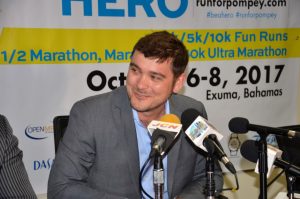 "What I really love about this event is not only does it draw tourists to the Bahamas and to Exuma, but it really celebrates something that's real," Mr Todd said. "And I think people travel for the things that are culturally relevant, things that are historically relevant and things that are real."
To learn more about the Run for Pompey and register for the race, visit www.runforpompey.com