Grand Isle returns to Tiger21 Annual Meeting
For the second year in a row, GIV Bahamas Inc and Grand Isle Resort & Spa were showcased to what Forbes magazine calls "the most powerful networking group in the world".
Tiger21, the peer-to-peer learning network, now consists of nearly 400 members spread across 21 cities in Canada and the United States. With a collective net worth of some $35 billion, these business leaders, converging in Los Angeles earlier this month for the Tiger21 Annual Meeting, got to know Grand Isle and Exuma a second time. The property was assigned space in a special area known as the Magnolia Lounge, intended for networking, socializing and pursuing the group's elite purchasing partners.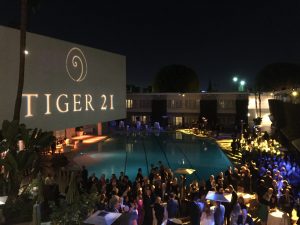 "We were proud to showcase Grand Isle Resort in the members lounge at the Tiger 21 annual conference," said Clay Speakman, from Magnolia Purchasing Partners.
"It's a beautiful resort, everyone loves the swimming pig stories, and it's quickly becoming one of the  favorite spots among our members."
Peter Nicholson, the President of GIV Bahamas Inc. and WCPD Inc., has been an active and enthusiastic participant of Tiger21 for years. Hailing from the Montreal Chapter, he saw an opportunity to share a part of the world that has been close to his heart for more than 12 years.
"Exuma is one of those places that gets into your bones. When you get it, you really get it," Nicholson said, who participated in several days of sessions and meetings at the Beverly Hills Hilton. "I just enjoy exposing my fellow Tigers to what I believe is hands down the most beautiful place on Earth."
For three days in February, Jeff Todd, the Director of Communications for GIV Bahamas Inc., manned a booth in the Magnolia Lounge and spoke with Tiger21 members. The space was a hit partly because of a rousing, tongue-in-cheek game of fishing using magnetized fish and poles, giving members a chance to win a series of prizes.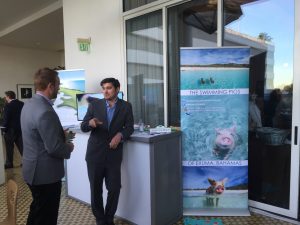 The childhood game resonated with members perhaps due to the grass-root, down to earth, humble nature of its membership.
Central to Tiger21 membership, apart from the fees, a portfolio defense in front of your peers. A great number of the members are self made.  One of the organization's mantras is "Don't Confuse Wealth With Success", which acknowledges that just because a member has made money, it does not make them a responsible wealth manager or successful person.
This theme fits well with WCPD Inc and GIV Bahamas' philanthropic pursuits, whether it be aiding Canada's wealthiest families to give a bit more, or helping the people of Exuma with healthcare and education via the new Exuma Foundation of Canada.
"Joining the Tigers was one of the best decisions I've ever made," Nicholson added. "I have gotten so much out of the experience, and I look forward to the possibility of showing more of them around Exuma this year."
For more information about Tiger21 you can visit its website at: https://tiger21.com/