Ministry of Tourism gets behind 'Run For Pompey'
Executives of BAF Financial & Insurance (Bahamas) Limited announced the historic Run for Pompey earlier this month, which is expected to be the next big thing in Bahamian tourism and one of the most authentic and meaningful highlights of the year.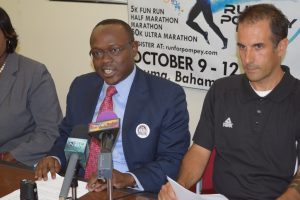 As part of the launch, the Ministry of Tourism in the Bahamas declared that it would be endorsed as an official event on the Bahamian tourism calender.
The Run For Pompey race will feature a 5km "fun run/walk" for the entire family, a 21.5km half marathon, a 42km marathon and a grueling 50km ultra marathon. It is scheduled to take place October 9th to October 12th, with the actual race occurring on National Heroes Day (Oct 12th) in George Town, Exuma.
An all-day cook out, live Bahamian entertainment and a Junkanoo Rush in George Town's Regatta Park are also being planned for National Heroes Day.
BAF, the Title Sponsor of Run For Pompey, is joined by the Bahamas Ministry of Tourism, GIV Bahamas Inc., Grand Isle Resort & Spa, Bahamian Beverage & Brewing Company, Senor Frogs, Bahamas Telecommunications Company (BTC) and BahamasLocal.com.
"It is a rare opportunity to support an event so closely linked with our history and culture," said I. Chester Cooper, the President and CEO of BAF Financial.
"Pompey is a true national hero and it is only fitting that this new event takes place on National Heroes Day. Despite all the things that divide us, Pompey is a uniting force for freedom and the Bahamian spirit."
In 1830, Pompey was a 32-year-old slave who led a rebellion against his plantation owner and British Lord, John Rolle.  Lord Rolle declared that 77 slaves in Exuma would be transferred to Cat Island against their will.  Pompey's rebellion marked the birth of the freedom fight, and in 1838 slaves were emancipated.
Pauline Davis-Thompson, Olympic gold medalist and the first Bahamian female IAAF Council Member, was on hand for the big announcement. David Thompson will serve as Patron for the race. Alongside her were representatives from the Bahamas Ministry of Tourism and the Ministry of Youth, Sports and Culture.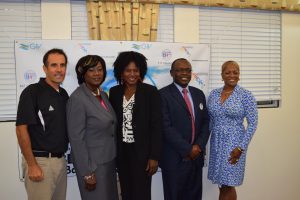 "I am so pleased to be part of this celebration of Bahamian history and freedom," she said.
"Ir is also a great opportunity to expose the world to Pompey and one of our most cherished Out Islands. I encourage all Bahamians to join me at the starting line."
All proceeds from the race will go towards an annual scholarship fund for one deserving student on Exuma. Entry fees range from just $25 to $90, and all participants receive an official Run for Pompey T-shirt and other memorabilia. Children under 16 run for free!
A portion of funds raised will also go towards the Exuma Branch of the Cancer Society.
The events begin on October 9 with the Pompey Banquet for sponsors, government officials and other VIPs, held at Grand Isle Resort & Spa on Emerald Bay. Grand Isle is the official resort partner of Run For Pompey, and it is offering a special discount for all participants. Simply visit www.grandisleresort.com and enter the promo code "POMPEY".
On October 10, the Exuma Foundation invites tourists to tour the 10-acre campus and learn about its charitable works for the community.
Local and international participants can register on Run For Pompey's new website at www.runforpompey.com.
Follow Run For Pompey on Facebook at https://www.facebook.com/runforpompey or Twitter @run4pompey.